CHALLENGE #4: THE MUG CHALLENGE
Gather the ingredients for your favorite celebratory drink. Make it and enjoy during the big Finally 21 Party on Saturday, March 6 at 5 PM. (Get your Party Passes Here.) Whether it's a boozy extravaganza or a warm cup of fancy tea, if it makes you happy, it's perfect for the occasion!
Need inspiration? Check out these great drink recipes (both alcoholic and non-alcoholic) from Third Place Commons partners and board members.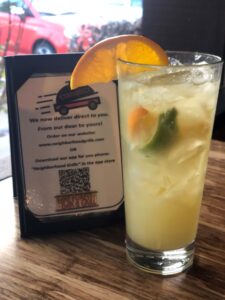 Pineapple Prosecco Margarita 
Courtesy of the Lake Forest Bar & Grill
1.5 oz Sauza Hornito's tequila
1 oz pineapple juice
1 orange slice, muddled
1 lime slice, muddled
Top with your favorite Prosecco
Non-alcoholic Butterbeer (with alcohol variations)
Courtesy of Honey Bear Bakery
Ingredients per serving
8-12 oz warmed milk (or dairy alternative), or chilled seltzer for a lighter drink
1/4 Cup Butterbeer syrup
Optional: liquor of choice, whipped cream
Butterbeer Syrup (syrup recipe makes enough for about 6 servings)
1 cup packed brown sugar
1 Tbsp water
6 Tbsp unsalted butter (or chilled coconut oil, or vegan butter- though if you use vegan butter, leave out the additional salt)
¼ tsp salt
1 Tbsp apple cider vinegar
3/4 cup heavy cream (or vegan heavy cream- Silk makes one, or use canned coconut cream)
3/4 tsp rum extract (optional)
Preparation – Syrup
In a small sauce pot, add brown sugar & water and bring the mixture to a boil (at least 225 on a candy thermometer) while stirring. Boil for about a minute, adjusting heat to prevent burning, or until sugar granules have mostly dissolved. Remove from heat.
Add butter and salt, stir until all butter is incorporated.
Add apple cider vinegar, heavy cream, and rum extract (optional), and mix until combined.
Let this mixture chill.
Preparation  – Butterbeer Drink
In a large mug (or tall glass), add 1/4 cup of the Butterbeer mixture.
Add warmed milk (or dairy alternative, or seltzer) and carefully stir, leaving room for optional additions below.
Optional
Add a shot of whisky, rum, or butterscotch schnapps
Add whipped cream
Note: when mixing syrup with cold liquids, butter solids may separate and float to the top. This is normal and they are still delicious, but feel free to skim them off if you prefer.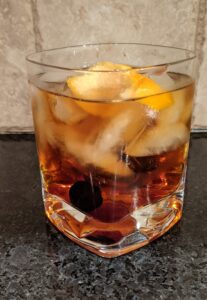 Norman and Joe's Classic Manhattan with a Twist
Ingredients
3 oz rye or bourbon or whiskey
2 oz sweet vermouth
Dash of Angustoro bitters
Preparation
1.Add ice to ingredients
2. Shake or stir before adding garnishes
3. Strain out ice (or not)
Optional Garnishes
Maraschino or Bada Bing cherry
A twist of orange peel
Sweet 16 Punch
We dare you!
Ingredients
1 pt. raspberry sherbet
2 qt. refrigerated ginger ale
lime slices, strawberries or sweet cherries, with stems.
Preparation
Place sherbet in bowl.
Add ginger ale.
Float lime slices and berries.
Makes 16 punch-cup servings.
Chocolate Banana Peanut Butter Protein Shake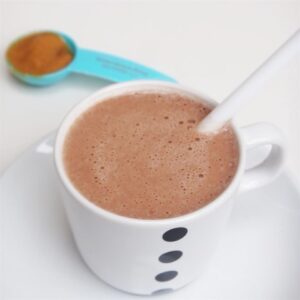 Have dinner & dessert all in one!
 Ingredients
6 cubes ice cubes
1 cup milk
1 banana
1 scoop chocolate-flavored protein powder
2 tablespoons peanut butter
1 tablespoon honey
1 teaspoon unsweetened cocoa powder, or more to taste
Preparation
Blend ice cubes, milk, banana, protein powder, peanut butter, honey, and cocoa powder together in a blender until smooth.