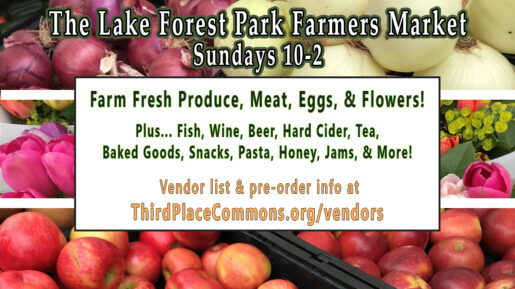 After working closely with partners at the state, county, and local levels, the market was redesigned in 2020 to a new paired down format where physical distancing and a high level of sanitation can be maintained for everyone. The number one goal is to make sure the market is a safe place for you to do your weekly food shopping.
The great news is you'll still be able to get all your farm-fresh produce, meat, fish, and other favorite specialty items from your favorite market vendors! (Visit our website for a full list of vendors.)
Although some COVID restrictions are being relaxed in 2021, for the time being, many remain in place. Our market is subject to rules and restrictions at the state, county, and local level. When these guidelines are in conflict, we are obliged to remain in line with the most restrictive requirements in order to operate. Thus, masks remain required at the market until further notice. 
As the pandemic continues, the market must remain, for now at least, the place where you do your quick in-and-out shopping rather that our traditional community gathering space.
A few of the changes you can expect to see:
Fewer vendors will be at the market so that those who are there can spread out with more physical distance between them – and between shoppers.
Many vendors will be offering pre-orders to minimize your time at the market. Check the Third Place Commons website for details. (A list will be uploaded and updated as details become available.)
There will be a designated entrance and exit, and shopper entry will be controlled to eliminate crowding.
Vendors and staff will be required to wear masks or face coverings. Shoppers will also be required to wear face coverings per directive from Public Health – Seattle & King County.
Social distancing will be enforced for all participants.
Hand sanitizer will be available.
High touch points will be regularly disinfected.
There will continue to be updates to market operations and shopper expectations as public health authorities issue new guidelines. Please be sure to stay tuned for further important updates.
In this difficult, topsy-turvy time, the Lake Forest Park Farmers Market is a welcome source of sunshine, providing the community access to fresh, healthy market foods (including great organic options) while supporting the many wonderful farmers and vendors who rely on the market each year. Their continued success this season will help ensure they survive this very difficult year and enable both vendors and market alike to come back, hopefully stronger than ever, in years to come.
In a time when many are struggling more than ever, the market also continues to support low-income neighbors through the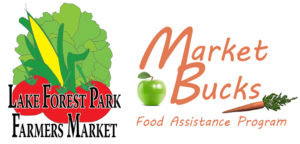 locally funded Market Bucks food assistance program. (You can make a gift to support Market Bucks here.)
The market also gladly accepts WIC and Senior Vouchers and SNAP benefits. And we're now participating in the statewide SNAP Market Match program, providing SNAP recipients with a dollar-for-dollar match for their SNAP benefits up to $40 daily. That's $40 of free produce every week!
So grab your shopping list (and face covering!) and come on down to the market this Sunday, 10-2!
---
The Lake Forest Park Farmers Market is a program of Third Place Commons, a 501(c)3 nonprofit organization celebrating its 20th anniversary of fostering real community in real space. Third Place Commons is located in the Town Center at Lake Forest Park at 17171 Bothell Way NE, Lake Forest Park 98155. All donations to the organization are fully tax-deductible to the extent permitted by law.