A BLUE WEEKEND
Pickled Okra – Friday May 9 @ 7:30 – "Bluegrass/Americana"
Left Turn on Blue – Saturday May 10 @ 7:30 – "Blues/Swing"
We have a blue filled weekend in store for you. From bluegrass and americana to blues and swing, we've got a little something for everybody on this blue weekend.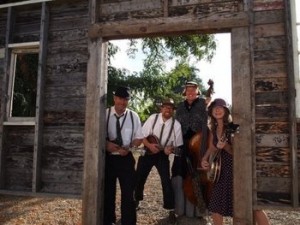 Friday evening music, May 9 @ 7:30 will be served up by Pickled Okra. If Pickled Okra's special brand of Americana music could be described with words, you might call it "old-school, porch-settin', singin' into a can-style bluegrass (with a twist)". If you ask one of the members of the band they'll tell you it's "ham and cheese grass". Either way this group made up of two married couples (all characters in their own right), is undeniably charming and entertaining – not to mention pretty darn talented. Yes they know their bluegrass licks and aren't afraid to show 'em off, but their music is full of ideas borrowed from other genres, like irish fiddlers, jazzy delta blues, rock, reggae and funk as well, for a sound that is timeless yet modern in it's own quirky way. It's kind of like stepping back in time, but with indoor plumbing.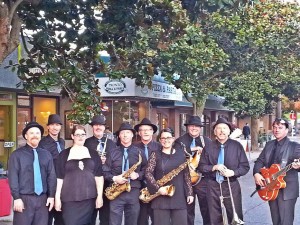 Saturday May 10 @ 7:30 , 11-piece Seattle-based band, Left Turn on Blue, will blow us away with their classic soul, blues, funk, and swing. This high energy band's killer horns, powerhouse vocals, and dynamic rhythm section get everyone up on the dance floor! Left Turn on Blue plays a mix of blues, soul, and swing including songs by James Brown, Ray Charles, Aretha Franklin, Cab Calloway, Sam and Dave and Van Morrison to name a few. Our mix of blues, jump swing, soul, and a little funk is the kind of music that people just can't sit still for.

As always Weekend Music is always FREE and begins promptly at 7:30.
Thanks to Madison Marquette and our Community Music Sponsors.