Below was the line-up for the Thanksgiving Farmers Market and Holiday Crafts Fair on Sunday, November 21st from 10 AM – 2 PM. The line-up for the December 19th market will be similar and will be posted soon. Vendors are still being added and this list will be updated as they are confirmed.
Alvarez Organic Farms
Amantikir Coffee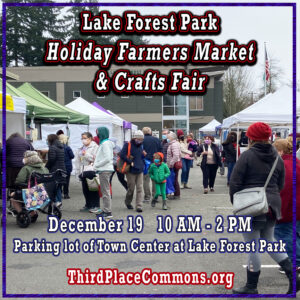 The Bailey Creative Co.
Bautista Farm
Ca Brille Jewelry
Darcy's All Natural Soaps and Products
Dennis Cant Metal Art
Embroidery and More
Everything Elderberry
Fotografia Artistica
Garden Treasures
Greenwood Cider
Je Ne Sais Cluck
La Pasta
Lake Washington Candle Company
Lopez Vineyards
M Jewelry
Pete's Toffee
Pink Polka Dots
Rainier Salsa
Rockabella Bags
Second Stitch Clothing
Sidhu Farms
Smith Brothers Farms
Studio Sardine
T.M. Originals
Well Fed Farms
Wilson Fish
---
The 2022 season will run every Sunday, 10 AM to 2 PM, from May 8th to October 16th.
The information below reflects the previous vendor line-up for the start of the 2021 season. The list will be updated in Spring for the 2022 season. Please note that vendor lists are always subject to change, some vendor participation will vary week to week (especially early and late in the season), and some vendors may alternate weeks at the market.
---
2021
Many vendors will be offering pre-orders at the market in order to shorten shopper time at the market. This list will be updated with vendor pre-order information as it becomes available.
Below is a tentative list of vendors who will be participating this year.
Alvarez Organic Farms (organic row crops) – Pre-orders (by Thursday midnight):
https://alvarez-organic-farms.square.site/?location=11ea9092f91ed3e5a53a0cc47a2b63cc
Bautista Farm (row crops)
Beekeepers Secret (honey) – Pre-orders: Email to order to: [email protected]
Cascade Valley Farm (formerly known as Rainier Salsa)
Cedar Spring Farm Jams & jellies (small batch jams with pepper jams) – Pre-orders: https://cedarspringfarmjams.com/farmer-market-home-delivery/
-attending twice per month
Cha New Life Garden (row crops/ flowers) – Pre-orders: Email order to [email protected] and pay at market
Collins Family Orchard (starting June 6)
Doll House Baked Goods – Pre-orders: http://www.dollhousebakedgoods.com/product-category/lfp2020/ 
EF Produce
Everything Elderberry
Garden Treasures (organic row crops) – Pre-orders: https://gardentreasuresfarm.com/shop-online
Greenwood Cider (hard cider) – Pre-orders: https://greenwoodcider.square.site/
Gypsy Rows (tentatively starting June 20)
Hayton Farms (berries) (tentatively starting May 30)
Holmquist Hazelnut Orchards
La Pasta LLC (pasta and sauces)
Lopez Island Vineyards – Pre-orders: https://lopezislandvineyards.com/shop/
Long Farm (formerly Sua Yang, flowers)
Maika's Garden (flowers)
Martin Family Orchard (orchard fruit)
The Mediterranean
Mollie Bear Farm (lamb and chicken) – Pre-orders: www.molliebearfarm.com
– attends every other week
Patty Pan (frozen tamales) – Pre-orders: https://patty-pan-coop.square.site
Pop's Kettle Corn
RP Guerrero Orchard (starting June 20)
Seattle Pops
Shen Zen Tea (kombucha and teas)
Sidhu Farms (tomato plants/ frozen berries) – Pre-orders: Find square order form on https://www.facebook.com/SidhuFarmsBerries/
Simpatico Foods – attending occasionally
Tin Dog Brewery
Well Fed Farm (row crops, pork, chicken, eggs)
Whitehorse Meadows Farm (organic blueberries) (tentatively starting July 11)
Wilson Fish Markets (fresh and smoked salmon, fish) – Pre-orders: https://www.facebook.com/Wilson-Fish-Markets-142645242418035/
Yang L. Lao & Angeng Chang Garden (flowers)
Yeng Gardens (flowers) – Pre-orders: https://www.facebook.com/yeng.vue.965580
Additional Garden Artists (will fill in at start and end of season):
Dennis Cant Metal Art
Finches & Friends (metal birds for garden)
Forest Green Enterprises (concrete art)
Metalwings Studio (enamel birds)
Lady Belle Creations (stepping stones)
Follow us on Facebook at Facebook.com/ThirdPlaceCommons for all the latest and greatest market news all season long!