We gladly accept SNAP benefits, WIC and Senior FMNP Cards at the Lake Forest Park Farmers Market!
In addition, we are proud to participate in the SNAP Market Match program, a statewide incentive funding program. For the 2023 season, SNAP Market Match will provide SNAP recipients with a dollar-for-dollar match for their SNAP benefits up to $25 per day at our market. That's up to $25 of free produce every week!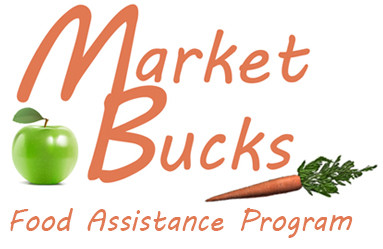 The Lake Forest Park Market also works with partner organizations and agencies to distribute Market Bucks, our food assistance program made possible with funding from Lake Forest Park Rotary and donations from generous individuals like you. Market Bucks empower kids, families, and seniors who struggle with food insecurity to purchase fresh and healthy food at the LFP Farmers Market.
Market Bucks are distributed to individuals and families in need through a variety of partners including Hopelink, the Center for Human Services, the Shoreline Lake Forest Park Senior Center, the Dale Turner YMCA, and individual schools in the Shoreline Public Schools District. By working with these invaluable community partners, we ensure that Market Bucks resources reach community members in greatest need.
To find out about food assistance eligibility for yourself, or for a friend or relative, contact the Center for Human Services at 206.440.7300, or Hopelink at 425.869.6000. Both have offices in Shoreline.
You can also call one of these toll-free numbers for information:
SNAP Benefits (formerly known as Food Stamps): 1-888-436-6392
Senior Farmers Market Nutrition Program Vouchers: 206-448-3110
WIC Farmers Market Nutrition Program Checks: 1-800-841-1410