Little Bill and the Blue Notes "Rhythms & Blues" – Friday August 1 @ 7:30
Chris Stevens and the Surf Monkeys "Surf/Blues" – Saturday August 2  @ 7:30
Local blues lovers look out!  This weekend's musical line up is all for you.  Get ready to tap your toes to the beat and enjoy some good old rhythm and blues!
Coming up on nearly 50 years as a band, Little Bill and the Blue Notes have been playing in the Third Place Commons as long a we can remember.  The band is one of the Northwest's first Rhythm and Blues bands. Led by Little Bill Englehardt, Washington's "Ambassador of the Bass Guitar",  the band navigates styles from early country blues to sophisticated, romantic R&B balladry.
Seattle guitarist and singer Chris Stevens has been a favorite of Northwest blues fans for many years.  His intense playing calls the prime years of stellar guitarists like B.B. King, T-Bone Walker and Kenny Burrell to mind.  Preferring to deliver his electric blues lines with the rich tones of a big Gibson archtop, Chris combines scorching blues feeling with dazzling chops and constantly surprising musical ideas to create a style that cuts across genres, including blues, jazz… and surf!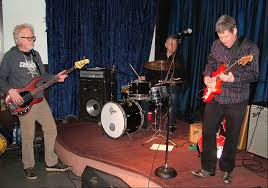 Taking their unusual name from a song title by legendary blues guitarist Freddy King, the Surf Monkeys keep a firm footing in the blues while stretching the boundries with ultra cool spy themes, reverb drenched surf twang and Chris' own "blues on the edge of jazz" originals.  The Surf Monkeys truly are the missing link!
Music begins at 7:30 every Friday and Saturday evening and is always free and open to the public.
Thank you to Madison Marquette and our community music sponsors.  If you or your organization are interested in sponsoring an evening of music in the Commons please contact Constance Perenyi at [email protected]