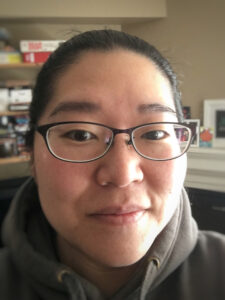 This past summer, I had the honor of joining the team at Third Place Commons as the new music and events coordinator, and for the first time I got to experience the joy that comes with being a part of this Commons community.
My first taste of that community was working in the information tent at the Lake Forest Park Farmers Market. There I was greeted every week with smiling faces and friendly hellos from countless community members I hadn't even met yet who made me feel as welcome as I hope they always feel themselves at the market.
I also had the privilege of serving our many low-income neighbors with SNAP benefits as well as our own locally funded Market Bucks food assistance program. It's deeply gratifying to know that we're able to make thousands of dollars in healthy, fresh market food accessible to those in need with the support of folks like you.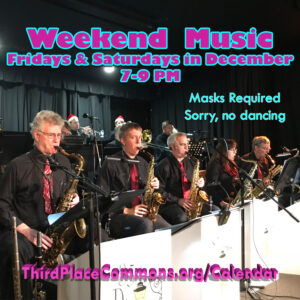 Needless to say, as the new events person at Third Place Commons, I was also very excited to be a part of relaunching the Weekend Music program this fall. It has been such a thrill to see the Commons come to life each weekend with live music of all kinds, from swing and big band, to funk and soul, to honkytonk and Celtic. And like everyone who has joined us for these wonderful performances after so much time isolated and apart, I have loved feeling like part of a community again.
We've worked hard to keep things safe with appropriate COVID precautions in place for all in-person events, of course. But we've also maintained a hybrid roster of programs with plenty of options online for those who aren't yet ready to return to our space, and for larger events we can't yet hold safely inside.
Among these, a community town hall on climate sustainability, an ongoing series on going green, a commemoration of Lake Forest Park's 60th anniversary, and nonpartisan forums for Lake Forest Park City Council candidates and Prop 1 Pros and Cons have all brought in large, engaged audiences ready to connect and learn.
And these offerings have only scratched the surface of what has been a very busy year of virtual programs, complete with weekly foreign language conversation groups and monthly computer Q&A's and book and movie clubs, in addition to the many other stand-alone events.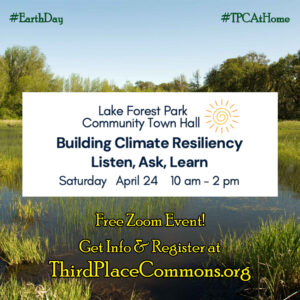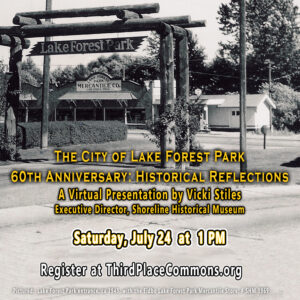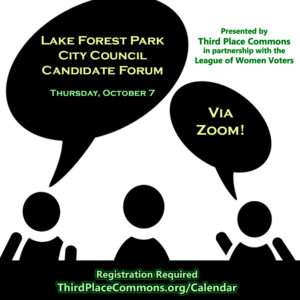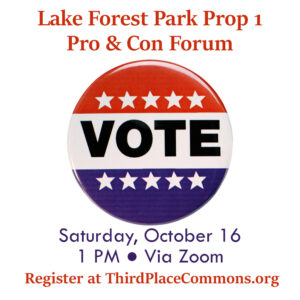 Even amidst all this programming, one of the most gratifying things has been simply seeing folks returning to the space after too long closed. Whether to visit with friends, hold planning meetings or book club gatherings, to just enjoy lunch or a snack while listening to some music, our community remains vibrant and strong.
I hope you've experienced something similar yourself, whether at the farmers market, enjoying our live music, or learning at one of our many civic programs – or even just chatting with friends in our Commons space. That sense of connection and belonging is palpable.
The challenges of COVID remain, of course. We cannot yet return to full capacity programming in our space, and the ongoing financial challenges of weathering a pandemic become increasingly clear with each passing day. Truly, every dollar matters as we strive to recover and your support makes it possible to carry on building the community and connection that we all need more than ever now.
Will you make a gift today to ensure our community continues to grow stronger and more vital in the year to come?
I am so grateful to be a part of this community, and if I haven't met you yet, I hope you'll say hello at a future event. And in the meantime, thank you so much for your support of Third Place Commons.
Warm regards,

Kim Caudill
Music and Events Coordinator
P.S. I hope you can join us for our last Holiday Farmers Market and Crafts Fair of the year on Sunday, December 19th from 10 AM – 2 PM. It's a great place to pick up those final, perfect holiday gifts handmade with love. Plus, many of your favorite vendors will be there and they'd love your support! Read more here.