I want to start by saying thank you. If there is one thing I've learned in 2020, it's how important community is. The community that I miss – that we all miss – inside the Commons space. The community who filled our farmers market all summer. The community who gathers every week in our virtual events. And the community who continues to support Third Place Commons in these extraordinary times.
You are part of that community, and I thank you for that.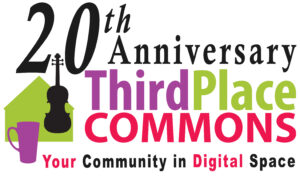 Our 20th anniversary year certainly hasn't looked anything like we expected, and this year has taught us all some difficult lessons. We've learned just how hard it is to isolate from the friends and family we count on in our daily lives. We've learned how to make short term personal sacrifices to ensure a brighter future for us all together. We've even learned some less serious, but still challenging lessons like mastering the finer details of Zoom!
Sadly, it has also been a year of loss for many. Some have lost jobs or wages. Some have lost loved ones. But with your help, we will not lose hope.
Of course, we have also all learned some wonderful lessons this year. Like how to truly appreciate simple gifts like spending time together, seeing each other's faces in person, and giving a hug when it's been too long, or when someone just needs that hug. The limitations we must all live with today stand in stark contrast to these simple gifts that we no longer take for granted.

These are the simple gifts that, until recently, folks have experienced every day for 20 years at Third Place Commons – and that we will experience again in the year to come (when it is once again safe to do so), with your help. Will you make a tax-deductible gift to ensure we all have that opportunity?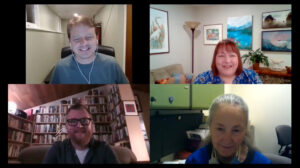 In the meantime, we have found a new way to foster community. Like everyone, we have turned to the digital sphere where we welcome old and new friends alike to gather every week for much needed community connections under the moniker TPC At Home.
Our foreign language conversation groups laugh and share together with joy and kindness. Our Computer Q&As offer folks opportunities for lifelong learning in the digital landscape (more essential than ever these days). And our book and movie clubs give folks a chance to discover, or rediscover, old favorites and new classics while connecting with fellow book and movie lovers. Meanwhile, our Pandemic Picks sessions have been serving viewers with great suggestions to keep them well supplied with the reading and viewing options they need to get through a cold, wintery lockdown.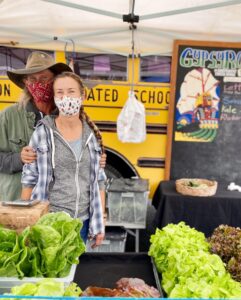 Fortunately, we haven't been limited solely to the online arena thanks to the Lake Forest Park Farmers Market. As our flagship program, the market has always been one of the cornerstones of our efforts to build and serve real community in real space.
In 2020, that effort has taken on an even greater significance as our neighbors have sought our socially distanced, fresh air setting to ensure the safest (and freshest) shopping experience possible.
Our need for community did not end when the pandemic started. If anything, it grew stronger. Likewise, our Commons Community did not end when our Commons doors were closed. And with your tax-deductible gift of support, our Commons Community will continue to grow stronger.
At Third Place Commons, the happiest lesson we've learned this year is that our dedicated community members care deeply about the Commons and want us to remain strong in these uniquely challenging times. Will you consider a year-end gift to ensure that happens?
We know this year has been tough for many and we understand that not everyone can give right now. But if you can, please make a gift today to keep our Commons Community strong, safe, and connected now – and to ensure that, when the time comes to do so safely, we're ready to welcome you back with the open doors and vibrant in-person programming you've come to love.
With deep gratitude,

Amy Whittenburg
Executive Director
P.S. We know that for many of our neighbors, these pandemic months have been isolating and lonely. Others live in busy, active households, yet still seek the enrichment of interactions with the "outside world" to bring balance to their daily lives. If you find you're one of these folks, or anyone in between, our TPC At Home programs are here for you. Visit our online calendar to get the links and get involved!