Join our team! We currently have immediate openings for the following:
---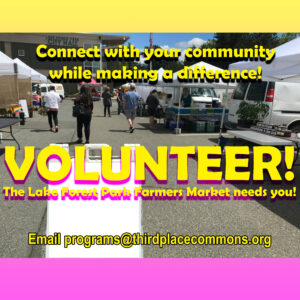 Volunteers: 
Volunteers help in the Info Booth answering questions (you learn the answers quickly!) and serving customers with SNAP benefits.
Typical shifts are 2 hours (10-noon and noon-2), seated, and protected from sun and rain under the tent.  
COVID Requirements: Masks are not currently required at the market, though individuals may continue to wear masks for personal comfort or to support those who are unvaccinated.
Want to help? Email us at [email protected].
Thanks and see you at the market!
---
Friends of Third Place Commons, a 501(c)3 nonprofit organization founded in 1999, manages the Commons for the community. Adjacent to Third Place Books on the upper level of the Town Center at Lake Forest Park, the Commons is a large and flexible community space that encourages both spontaneous and organized activities. Features include seating for restaurants, free Wi-Fi, a safe place for children and their caregivers, a semi-private meeting room, and a stage.
Every year, Third Place Commons hosts hundreds of free public programs for people of all ages, interests, and abilities. With concerts by local students and other community groups, educational opportunities for adults, Friday and Saturday night music, book clubs, arts gatherings, foreign language conversation groups, plus the Lake Forest Park Farmers Market, Third Place Commons is a lively and welcoming place.