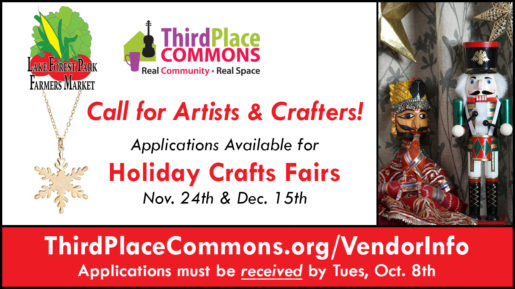 Artists and crafters are now invited to apply for Third Place Commons Holiday Crafts Fairs on Sunday, November 24 and Sunday, December 15.
Both crafts fairs will take place from 10 AM to 3 PM on the lower level of the Town Center at Lake Forest Park in conjunction with special, indoor pre-holiday editions of the Lake Forest Park Farmers Market. (The farmers market will take place upstairs in the Commons.)
Applications for these competitive, juried events must be received by Tuesday, October 8th for guaranteed consideration.
All items must be handmade in Washington by the individuals selling at the market. Artists and crafters of all media are encouraged to apply to represent a broad spectrum of creative endeavors.
Get more information and download the application here.
The Lake Forest Park Farmers Market and Holiday Crafts Fairs are presented by Third Place Commons, a community-supported, 501(c)(3) nonprofit organization dedicated to creating real community in real space. Learn more here.
We look forward to seeing your submissions!