The work that Third Place Commons has done day-in and day-out for over twenty years is all about one thing. Community.
From hosting hundreds of free events each year to putting on the Lake Forest Park Farmers Market to nurturing a safe, welcoming space for friends, families, neighbors, and colleagues to gather and connect, our mission is always to foster real community in real space.
As a 501(c)(3) nonprofit organization, we depend on a dedicated roster of volunteers, including especially our Board of Directors, to build that deeply connected sense of community. Our Third Place Commons community starts with these special individuals.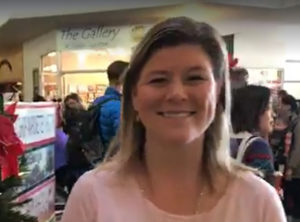 This year, we're sharing a series of short features to introduce you to just a few of our great volunteers. One such volunteer is longtime board member Silje Sodal. We put three board questions to Silje, and here's what she said:
Q: HOW LONG HAVE YOU BEEN ON THE THIRD PLACE COMMONS BOARD?
I joined in 2017, although I don't seem to remember anything about that time. I do remember, however, seeing an advertisement for the [annual fundraising] breakfast and knowing that I wanted to go so that I could learn more about how to get involved. 
Q: TELL US ABOUT YOURSELF, YOUR FAMILY, AND YOUR LIFE IN LAKE FOREST PARK
After our son was born, my husband Pete and I decided to move from our Belltown condo and find a house and community where we could raise our family.  Having moved here only a few years prior for graduate school, I wasn't very familiar with the area – and was especially ignorant about what existed beyond 145th!  We found a nice house in a wonderful neighborhood near LFP Elementary, but what really sealed the deal for me was visiting Third Place Commons.  It was important to me to live in a place that wasn't just another nameless suburb, and as I walked into the Commons and folks bustled around me eating, reading and meeting friends, I knew instantly that this was truly a community that valued 'real connection in real space'. 
Since then, this has been the place where we've brought our kids for events, performances and activities, where we've met friends or had meetings, and where my kids practiced being independent, first by perusing the nearby stores while we adults finished eating or shopping, and later by walking to the Commons to do homework or hang out.  The Commons is like that familiar and friendly neighbor who sees your kids grow up and welcomes you to their home no matter what. Third Place Commons is the heart of the LFP community!     
Q: FAVORITE COMMONS MEMORY (e.g., specific experience, program, or event)?
My family and I always enjoy attending the Lake Forest Park Farmers Market, but I've also enjoyed the performances that community groups have had on the stage (5 year old ballerinas are the cutest!) and sipping coffee on weekend mornings while listening to live music.  I also have a vivid memory of attending one of the weekend dance nights and being blown away by the caliber of the music and the enthusiasm of the dancers!  And of course, I always enjoy the craft fairs where I get a solid head start on holiday shopping while also running into neighbors and friends.  It is a joy to have a 'third place' after home and work to shop, eat, hang out and socialize! 
We Would Love Your Help!

Volunteers make everything we do possible!
If you're interested in volunteering with Third Place Commons and the LFP Farmers Market, or even in the possibility of board service, let us know.
Contact Executive Director Amy Whittenburg at [email protected] to find out more.
See you at the Commons!