Thank you to everyone who joined us for last week's breakfast! We are so grateful for your support!
Even if you couldn't make it, you can still support your Commons Community by making a gift online here or by sending a check to:
Third Place Commons
P.O. Box 82355
Kenmore, WA  98034
Thank you and see you at the Commons!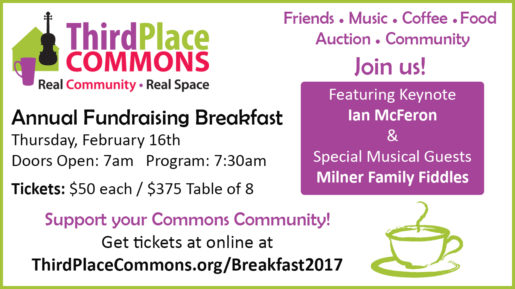 With the arrival of a new year comes the news of our beloved annual Community Breakfast! This year's festivities will take place on Thursday, February 16th and will feature both familiar program favorites and some fun surprises. The always lively, fast-paced Community Breakfast is Third Place Commons' biggest fundraiser, and fun-raiser, of the year – the perfect time to come together as a community and show support for our shared Commons Community!
This year's theme will focus on music and arts programming at the Commons, and especially our youth programming that gives youngsters countless chances to engage, learn, and grow both as audience members and as participants!
Our own local guitar hero Ian McFeron will join us for a short keynote address. A Shorecrest High grad who has become a successful, young, buzzworthy artist in his own right, Ian's band has toured the country and often played the Commons as well. Ian will share a little about the impacts of his own early arts experiences and as an active member of our fabulous Commons Community. (Sample Ian's music here and follow his band on Facebook here.)
Ian will also sit in with our wonderful breakfast band, the Milner Family Fiddles!
Doors opens: 7 AM
Program starts: 7:30 AM
Program ends: 8:29 AM and you're on your way!
Tickets are $50/seat, or bring your friends to a table for 8 at $375. Buy your tickets here!
Please join us in celebrating and supporting another year of vital Commons programs including:
Over 900 free events every year for audiences of all ages
Live music (and dancing) every Friday and Saturday night
Community performances by local schools, private studios, community nonprofits, and amateur musicians
Weekly Kaleidoscope Play & Learn sessions (for infants to 5 years old and their caregivers)
The Lake Forest Park Farmers Market
The Market Bucks food assistance program for low-income neighbors
Family programs like Halloween shows at the Commons and Family Day at the Market
Games and wordplay groups
Annual Crafts Fairs
And much more!
Improv performer Adina Gillett of Jet City Improv will add zing to our morning as our emcee and auctioneer Ross Henderson will join her for a quick, fun auction of a few delightful goodies and nights on the town. But not to worry, we'll hurry to get you off to your day in good time. Nothing like the thrill of a live, speed auction in the AM to get your blood pumping and get you revved up for a great day ahead!
Questions? Email [email protected] or call 206-366-3302.
We look forward to seeing you bright and early on February 16th at the Commons! Thank you and see you then!