Are you an avid reader or a movie superfan? Do you love delving into great stories, then discussing them with friends? We have got the group for you!
Book lovers will discover kindred spirits and a warm welcome in the Commons Community Book Club, which meets on the third Wednesday of each month at 5 PM. The group reads recent and critically acclaimed fiction bestsellers that have made it to paperback.
For April, the group is reading The Dutch House by Ann Patchett, a New York Times Book Review Notable Book and named one of the "Best Books of the Year" by NPR, the Washington Post, O Magazine, Buzzfeed, and more!

This Pulitzer Prize finalist is a richly moving story that explores the indelible bond between two siblings, the house of their childhood, and a past that will not let them go. The Dutch House is the story of a paradise lost, a tour de force that digs deeply into questions of inheritance, love and forgiveness, of how we want to see ourselves and of who we really are.
The group meets next on April 21st, so start reading and join the conversation!
Register here for the Commons Community Book Club. (Register just once to get the link to use for all future meetings.)
Meanwhile, movie lovers will find themselves right at home in the TPC Movie Club. The club meets monthly on the second Tuesday of the month at 7:30 PM to discuss that month's selection, plus other favorites old and new.
For the moment, the group focuses on critically acclaimed films from recent years that are widely available to stream so that everyone can easily watch them from home prior to the meeting. In the future, the club may switch to new releases in the theatres, but not until the current public health crisis passes.
At the next meeting on April 13th, the group will discuss 1917, which was nominated for 10 Oscars including Best Motion Picture and Best Director, and won three! It's the story of two British soldiers during World War I who receive seemingly impossible orders. In a race against time, they must cross over into enemy territory to deliver a message that could potentially save 1,600 of their fellow comrades — including the brother of one of the soldiers.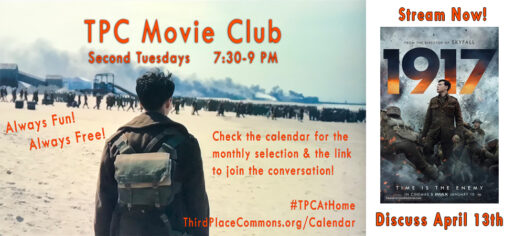 This gripping nail-biter of a film is both powerful and visually dazzling and will keep you breathless until the end. So stream it now and join the club to discuss!
Register here for the TPC Movie Club. (Register just once to get the link to use for all future meetings.)
Currently, both groups meet via Zoom and are expected to continue online for the foreseeable future. So sign-up today and join the club!