Are you stay-cationing this holiday weekend?  A sensible choice, and a fun one if you choose to spend some time with us!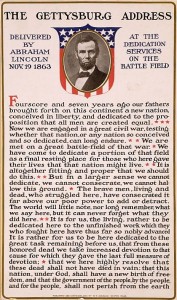 To get everyone in the right spirit, local history enthusiast Frank Lubash will read the Gettysburg address in the Commons on Friday evening at 6 pm.  At 7:30, Momentum Jazz Quartet takes the stage so you can dance the evening away.
There is no music on Saturday, and we wish everyone a happy 4th of July.
And yes, the Lake Forest Park Farmers Market is open on Sunday.  We have a special opportunity for you, too.  We will be giving away ice cream every half hour starting at 10:15.  Drop by the information table (under the green tent in front of Chase Bank) when you come to shop.  All we need is your name and cell phone number to enter you into the next drawing.  We'll treat winners to 2 servings of ice cream from either Half Pint or Whidbey Island Ice Cream. 
Drawings will be at 10:15, 10:45, 11:15, 11:45, 12:15, 12:45, 1:15, 1:45, 2:15, and the last one at 2:45.  So, say it with us:  "I scream, you scream, we all scream for ice cream!"
See you in the Commons and at the Farmers Market this weekend.  Happy 4th of July!