December 2017
When you think of Third Place Commons, what do you think of first?
Do you think of the arts? Of the live music and dancing? Of the Art-Ins, game nights, foreign language conversation groups, and other community meet-ups? Do you think of having lunch with friends or meeting with colleagues or having a coffee while you browse a new book from our neighbors at Third Place Books or the LFP Library? Do you think of school performances, magic shows, Halloween festivities, and weekly play-and-learn sessions?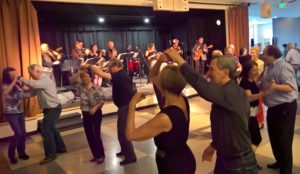 Or do you think of the wonderful Lake Forest Park Farmers Market? And the Market Bucks food assistance program that helps low-income neighbors in need to access fresh, healthy food at the market?
When we think of Third Place Commons, we think of all of that. We think of the nearly 1000 free events that the Commons hosts each year and of the incredibly diverse programming that serves infants, seniors, and everyone in between.
Most of all, we think of the community that Third Place Commons fosters from which we all benefit so deeply in ways both large and small. That's why we're writing to ask for your support of our shared Commons community.
We write to you today as two new members of the Third Place Commons board of directors. We each joined the board in the past year, each attracted to something special about this vital space and the Commons community it proudly serves. And we'd like to share a little of what brought each of us to this special organization.
Silje's Story… When my family moved to Lake Forest Park nearly a dozen years ago, it was Third Place Commons that "sealed the deal." While we appreciated the excellent schools and green spaces that this area offered, our top priority was to find a place that values community and to live in a neighborhood where we could put down roots.

Our Third Place Commons plays a critical role in creating community and preserving a sense of place, civility, and shared humanity. It is the local town square where, within a safe space, ideas are shared, meetings are held, friendships are nurtured, and formal and informal gatherings take place every minute of the day. It is the 'leveler' in our community where all are welcome to participate and engage. I love that about the Commons!

Casey's Story… As more recent transplants to the Seattle area, my husband and I likewise chose to settle in the area in no small part because of the community we discovered at the Commons. The premise of the third place is powerful and spoke to us right away. Home is the first place. Work is the second place. And everyone needs a "third place."

The beauty—and challenge—of maintaining a third place is that it must serve the diverse needs of a diverse population. It must provide both a family-friendly space and also a breath of fresh air from the home. It must offer an extension of the office, and when needed, an escape from the same. The thing I love about the Commons is how deftly it accomplishes that goal. It is a very fine balance, meeting those varied needs, and yet somehow, Third Place Commons manages to do all that and more.
While our precise reasons for joining the board were different, we found that we had much in common in our love for this community. We likewise shared a love for this unique organization that fosters our local community and nurtures our sense of connectedness like no other.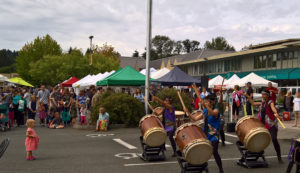 Will you join us in supporting our shared Commons community through a generous year-end gift to Third Place Commons?
Your gift will help keep our Commons community strong and vital, safe and welcoming, and accessible to one and all. Your support will keep the Lake Forest Park Farmers Market vibrant and flourishing while keeping the Commons alive with hundreds of free events every year.
In short, through your gift, you will help our community to thrive.
With great appreciation,
Casey Smirniotopoulos                      Silje Sodal
Board of Directors                                Board of Directors

P.S. Don't forget that Third Place Commons is a community supported, 501(c)3 nonprofit organization, which means that your year-end donations will be 100% tax-deductible! So please send in your gift today to:
Third Place Commons
PO Box 82355
Kenmore, WA 98034
Or make a gift online at ThirdPlaceCommons.org/give. Thank you!
P.P.S. Your donation will help ensure that the Commons remains the safe, welcoming space we all love where nearly 1000 free events each year (including the LFP Farmers Market) enrich our lives, entertain and enlighten us, nourish both our bodies and our minds, and bring us closer together. Please make your gift today to support your Commons community.