THANK YOU to everyone who joined us for our annual community breakfast. We're so grateful for your generous support that is so essential to creating real community in this real space.
Did you miss the breakfast?
You can still help this vital Commons community – YOUR Commons community – to thrive with a gift of support.
Make an online gift now or send your check to Third Place Commons, PO Box 82355, Kenmore, WA 98034.

Thank you!
---
Join us!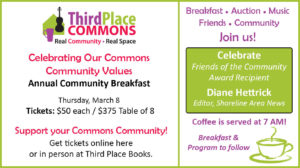 Celebrating Our Commons Community Values
Annual Fundraising Breakfast
Thursday, March 8, 2018
7:00 – 8:30 AM
Breakfast ● Auction ● Friends ● Community
Meet our sponsors.
This year's theme is Celebrating Our Commons Community Values. These are our core organizational values, which are beautifully exemplified in this year's Friends of the Community Award recipient Diane Hettrick, editor of the Shoreline Area News. You likely know what a treasure the Shoreline Area News is, and if you do, then you know that Diane's contribution to our shared community is immeasurable!
Please join us on March 8th in celebrating Diane's tremendous contributions to our community!
Keynote Speaker: Ron Chew 
Ron Chew is a nationally renowned thought leader and prominent local community leader who ran the Wing Luke Museum for 17 years and now directs the International Community Health Services Foundation. Chew has gained national recognition for his expertise in the role of community-based arts organizations as central to cultivating social justice and fostering healthy communities. Read more here.
Tickets: $50/seat, or bring your friends to a table for 8 at $375
Can't see the button? Click here to get your tickets.
Support the things your love and the programs that help our shared Commons Community to thrive!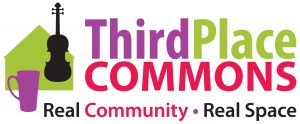 Please join us in celebrating and supporting another year of vital Commons programs including:
Over 900 free events every year for audiences of all ages

The Lake Forest Park Farmers Market

Live music (and dancing) every Friday and Saturday night

Community performances by local schools, private studios, community nonprofits, and amateur musicians
The Market Bucks food assistance program for low-income neighbors
Weekly Kaleidoscope Play & Learn sessions (for infants to 5 years old and their caregivers)
Community fairs and civic forums
Games and wordplay groups
Annual Crafts Fairs
And much more!
A BIG Thank You to Our Event Sponsors! 
PLATINUM SPONSORS
GOLD SPONSOR
SILVER SPONSOR
Interested in being a community sponsor for this event? Get the sponsorship details here.