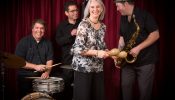 Third Place Commons is delighted to announce the launch of a new fall Latin Music Series. Over four Fridays in September and October, the Commons will celebrate the irresistible rhythms and melodies of Latin music beginning this Friday, September 2nd with Savani Latin Jazz.
Audiences at the Commons always love to dance, which is why we're so excited to launch this series. These groups offer a terrific variety of Latin styles, from sultry to fun-loving, but all of them are sure to get folks on their feet!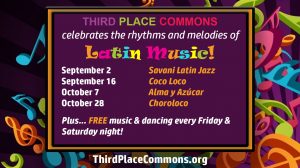 September 2nd marks the start of the series with Savani Latin Jazz whose timeless melodies and Latin rhythms are infused with a heavy dose of jazz. On September 16th, Coco Loco get your feet moving with fun, high-energy Latin music that transcends traditional boundaries. Next up on October 7th, Alma y Azúcar offer up an exquisite and passionate selection of Latin styles and flavors. It's Latin music for everyone! Finally, on October 28th, Choroloco wraps things up in high style with the joyous, celebratory music of Brazil with influences from around the world.
 Of course, this series is a natural fit for the Commons, which has a long tradition of presenting exciting live music of every style, from swing and big band to blues, rock, and more. These Latin bands will make a great addition to the vibrant, thriving community that we foster at the Commons.So whether you're a toe tapper at the table or a salsa aficionado ready to go pro, you won't want to miss this fantastic series! All performances in the series begin at 7:30 PM, and these and all events at Third Place Commons are always free and open to the public.
 Third Place Commons, a community supported nonprofit, also hosts over 900 other community events and performances per year, including the Lake Forest Park Farmers Market from May to October. Visit ThirdPlaceCommons.org for additional information about these and hundreds of other free events at the Commons.
We want to thank Merlone Geier and other generous community music donors for making these events possible. If you or your organization would like more information on supporting music or other events at the Commons, please contact Amy Whittenburg at
[email protected]
.