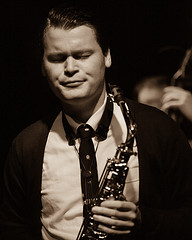 This Friday evening in the Commons, The Jacob Zimmerman Quartet performs classic bebop jazz from the 40s and 50s. For almost two years the group has held down a monthly series at Egan's Ballard Jam House, in addition to performances at the Ballard Jazz Festival, The Royal Room, and other venues.
Seattle-based alto saxophonist and composer Jacob Zimmerman is an extremely versatile and integral part of the local creative-music community. Jacob studied music at the internationally renowned Garfield High School, the New England Conservatory of Music in Boston, and Mills College in Oakland. His teachers have included Roscoe Mitchell, Jerry Bergonzi, Joe Morris and Anthony Coleman. Jacob was recognized as the "2013 Emerging Artist of Year" by Earshot Jazz.
As a bandleader the Jacob Zimmerman Quintet can be seen performing classic bebop music from the 40s and 50s on the 1st Thursday of every month at Egan's Ballard Jam House.
As a composer Jacob's main outlets are his large chamber-ensemble project Lawson, and the collective modern jazz trio Anteater.
As an educator Jacob teaches private lessons in jazz improvisation and saxophone, and works as an ensemble director for Garfield High Schooland the Seattle JazzED after-school program.
Jacob is an active board member for the Seattle-based New-Music record label Table & Chairs.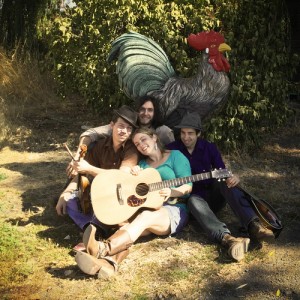 Saturday night the Blackberry Bushes return to Third Place for the second time, with their hard driving Americana.
The Appalachian Mountains are the meeting place of the fiddle and the banjo, and musical culture permeates the entire length of the Mississippi River. Jes Raymond and Jakob Breitbach may have started their musical journey in the rainy bottom of the Puget Sound, but their work is infused with the essence of the homes they wandered West from. Joined by Daniel Ullom on the mandolin and Forrest Marowitz on the upright bass, The Blackberry Bushes draw from the deep roots of American traditional music to create a playful and resonant sound with both twang and sophistication. They are emerging as a band of artists whose Americana is honest and generous with an obvious love of performing, spot on chemistry, and a live show that truly aims to stir the spirit.
Music in the Commons begins at 7:30.  Make sure to arrive a early to grab a seat and some dinner.  The Commons space fills up fast!
Thank you to Merlone Geier and our community music sponsors for helping Friends of Third Place Commons to keep this program running! If you or your organization are interested in sponsoring an evening of music in the Commons please contact Constance Perenyi at [email protected]