With the Third Place Commons annual fundraising breakfast just over a week away on March 8th, anticipation is building for a truly special community event including a better-than-ever live auction with something for everyone.
​So if you don't have your tickets yet, now is the time.
A popular annual tradition, the breakfast is always a wonderful occasion for friends, neighbors, and colleagues to join together and show support for Third Place Commons and the many vital community services provided by the beloved nonprofit organization.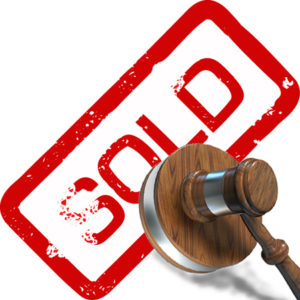 ON YOUR MARKS, GET SET, BID! 
As usual, the breakfast will include a quick and lively auction and this year's auction catalogue features some really special items. Are you a music lover who frequents the live weekend music at the Commons? Bid on the chance to have a jazz trio of great, local musicians play live at your own private party!
Are you aching for spring so you can go play in your garden? Then you'll want to dig into the bidding for a special gardener's bundle of goodies from Sky Nursery, Wild Birds Unlimited, and Town Center Hardware. If you prefer fish over flowers, then you'll want to cast your line toward the fly fishing lessons from the Avid Angler.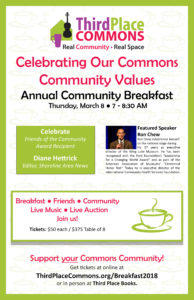 Have an occasion to celebrate? Go for a special dinner at Preservation Kitchen or enjoy a much needed date night with dinner and a show at 5th Avenue Theatre or Seattle Repertory Theatre. Or better yet, celebrate with over a dozen of your closest friends at a lunch for 15 at the Lake Forest Bar and Grill.
If the world's woes have got you down, you can soothe your soul with a full year of monthly facials or massages from A Better Day Salon.
Truly there will be something for everyone, so just get in there and bid. It will be worth every dollar!​
BUT WAIT, THERE'S MORE! 
Guests will also enjoy a delicious breakfast courtesy of Honey Bear Bakery, a joyful, musical welcome from the Milner Family Fiddles, and a terrific featured speaker in Ron Chew. (Read more about Ron Chew's impressive bio here.)
And you won't want to miss the chance to honor the tremendous service of local community treasure Diane Hettrick, editor of the Shoreline Area News, who will receive the Friends of the Community Award at the event.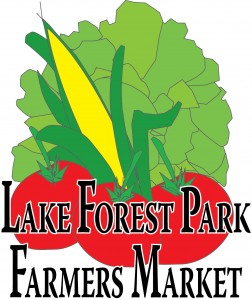 Third Place Commons is a 501(c)3 nonprofit organization that relies on the support of individuals like you to foster real community in real space by hosting over 900 free events each year and presenting the Lake Forest Park Farmers Market.​
Get your tickets now to join your Commons community in supporting this unique and special place that truly helps our community to thrive all year long. See you at the Commons on March 8th!
Special thanks to this year's Platinum Sponsors Merlone Geier Partners, owners of Lake Forest Park Town Center, and Republic Services for their generous support of this event!