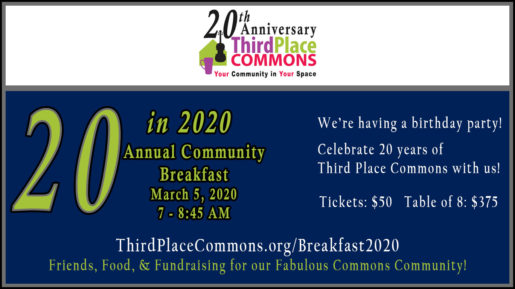 Third Place Commons is celebrating its 20th anniversary as a community supported nonprofit organization with an extra special party at this year's annual community breakfast. Get your tickets today for our very special birthday party! 
The big event, which is entitled "20 in 2020: Twenty Years of Your Community in Your Space," will take place on Thursday, March 5th at 7 AM.
As part of the celebration, the organization will look back at important milestones in its two decade history and of the evolution of Third Place Commons to become the place for your community in your space.
Fittingly, the Founders of Third Place Commons will be presented with the Friends of the Community Award. The list of founders is long and esteemed and includes many luminaries from our local community who will be on hand to join in the festivities.
The fun will begin with a lively set from local favorites the Milner Family Fiddles, followed by a tasty breakfast courtesy of Honey Bear Bakery. A fast-paced auction will include a number of special items including glorious artwork, great restaurants, and even a special overnight escape. There are also a few extra special surprises lined up for attendees to make the event one to remember!
This annual fundraiser is always a joyful occasion when friends new and old join together to show support for this vibrant community space. Proceeds from the event support 900+ free events each year and the Lake Forest Park Farmers Market, all hosted by Third Place Commons, a 501(c)3 nonprofit organization.
What do you love at the Commons? Whether it's the weekly live music and dancing, foreign language conversation groups, Mahjong Mondays, or Kaleidoscope play and learn sessions. Or a monthly gathering like the Art-Ins, Coloring for Adults, League of Women Voters, Ranked Choice Voting, or the LFP Garden Club. Whether it's avidly shopping the Lake Forest Park Farmers Market, or even if it's just working alone or meeting your friends in the Commons.
Whatever your favorite Commons activity, you are a vital part of the Commons community, and it's your support that will help that community to thrive into the future.
Tickets are just $50 (or $375 for a table of eight) and can be purchased online here. You can also purchase tickets in person from our neighbors at Third Place Books.
Community members are also invited to "share their Commons stories" (in 250 words or fewer) to help celebrate this important 20th anniversary milestone.
About the Organization: Third Place Commons is a community-supported, 501(c)3 nonprofit organization, which has fostered real community in real space for 20 years. Third Place Commons is located in the Town Center at Lake Forest Park at 17171 Bothell Way NE, Lake Forest Park 98155. All donations to the organization are fully tax-deductible to the extent permitted by law.