Friday, October 10th – New Age Flamenco
Saturday, October 11th – Mark Lewis Cool Jazz Trio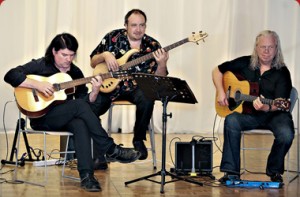 New Age Flamenco was formed in 1998 by bass player Oleg Ruvinov.  Playing tunes by Armik, Gipsy Kings, Carlos Santana, Ottmar Liebert and others, their music reflects a strong latin connection, Mediterranean folk, European roots, jazz, and a gypsy soul blended with the infectious rhythms of modern music new age flamenco and personifies eclecticism by absorbing each of these influences to create a new sound all their own.
The Mark Lewis Cool Jazz Trio sound is reminiscent of West Coast Cool, but with more freedom and a smaller group. The trio is Mark Lewis on saxophones, Richard Person on brass instruments and Steve Luceno on bass. The music has been described as inventive, interactive, spontaneous, lyrical and just amazing.
KPLU radio host Jim Wilke calls Mark Lewis "a Northwest treasure." Ted Giola, a jazz critic and author of "The History of Jazz," says "You listen to the guys with the primo recording contracts, on the very top labels, and in my opinion they're not in Mark's league." Rotterdam bassist James Long says, "Time after time I have been witness to his ability to touch and move the listener in a way that is seldom seen." Bassist DAvid Friesen says that Mark "is truly dedicated and cares 100 percent about the quality of music he plays."
Internationally acclaimed saxophonist Mark Lewis and former LA studio musician Richard Person on trumpet improvise melodies and harmonies of original compositions and jazz standards, while bassist Steve Luceno holds down the entire rhythm section. Inventive. Interactive. Spontaneous. Lyrical.
Music in the Commons is FREE and open to the public. Make sure to arrive early to grab a seat and get some dinner, as the Commons fills up quickly.
Thank you to Madison Marquette and our community music sponsors.  If you or your organization are interested in sponsoring an evening of music in the Commons, please contact Constance Perenyi at [email protected]