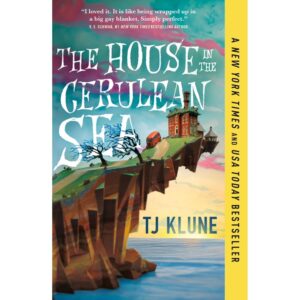 Each year, Third Place Commons is proud to welcome the Lake Forest Park READS event on our stage in partnership with Third Place Books, the LFP, Shoreline, and Sheridan Park branches of the King County Library System, and the City of Lake Forest Park.
Unfortunately, due to the ongoing pandemic, we're not able to host in person, but the show must go on, and we're delighted that our friends at Third Place Books will be hosting this year's READS event online on Tuesday, July 27th at 7 PM. 
This online event features author TJ Klune discussing and reading from his book "The House in the Cerulean Sea." He's joined in conversation by Hugo and Nebula award-winning author Seanan McGuire.
About The House in the Cerulean Sea
Linus Baker follows all of the rules when he investigates orphanages for magical children, but one unique orphanage leads him to examine his beliefs.  A heartwarming story of found family and the value of looking past your assumptions.
This witty and surprising novel is a fast read that will delight you from start to finish. The only disappointment? It ends too soon! So pick it up and start reading, and don't miss the big event on July 27th!
And yes, this book even has a music theme woven through it, so it fits just perfectly into our Summer of Music! For more music themed programs, including streaming and in-person performances, visit our Third Place Commons online calendar.
Third Place Books is offering 20% off this title thru July 31st and extra copies are available at the LFP, Shoreline, and Richmond Beach Libraries.
Registration is required on the Third Place Books website.  The event is sponsored by City of Lake Forest Park's Library Advisory Committee, Friends of the Shoreline, Richmond Beach and Lake Forest Park Libraries, and Third Place Books.