Our mission at A Better Day Salon is to support the families of our community, with quality service, by a caring and educated staff willing to help make the world A Better Place, one person at a time.
This month, we honor our valued supporters A Better Day Salon.  When the salon opened in the Town Center in January of 2001, it was a homecoming for co-owner Douglas Carl.  After finishing beauty school, he launched his career at Hairbenders, a salon in the mall several decades ago.  Douglas later worked at various places in Seattle, but Lake Forest Park called him back.  We are certainly glad he listened.
And he did not return alone.  Janiece Hoggatt, his partner in business and in life, is the big-picture visionary of the team.  Douglas admires her ability to focus and make things happen.  Janiece remembers her decision to join forces because of Douglas' big heart and commitment to service to others .  Marriages often bend and break under the pressure of a shared business, but Janiece and Douglas constantly seek a balance.  Even if working together is sometimes a challenge, these two find ways to solve problems.  And they model mutual respect within their extended salon family.  They care deeply for their younger staff members, all of whom are compensated fairly and rewarded for initiative.
A Better Day Salon is an Apprenticeship Salon, one of fewer than a dozen in Washington.  The salon takes on and pays wages to students who learn the beauty business from the front desk to the chair where they eventually offer services themselves.  After apprentices finish, they are prepared to take the state boards and start their professional careers.  Janiece and Douglas went to bat for this program in Olympia and helped get it approved by the State legislature.   They remain involved on the state level, with Janiece currently chairing Washington's Cosmetology Board.
After 7 successful years of offering excellent service and family-friendly pricing, the business outgrew its space.  Just as Douglas and Janiece started exploring expansion, the economy crashed.  Convinced it was still the right time, they scrambled to fund a move to a bigger storefront down the mall, and they trusted it would work.  In time, it did, and Janiece and Douglas credit the helpful people who showed up at just the right times.  They were determined to make the new space as environmentally friendly as possible by reusing lights, mirrors, cupboards, and doors.  When participants in the Welcome Home Program offered to paint the walls with, of course, Zero VOC paint, it became a true community effort.
Over 5 years ago, A Better Day Salon became an Aveda salon so they could use and sell the most environmentally conscious products available.  They felt aligned with Aveda's ethical practices, and soon became involved in Aveda's Earth Month activities, partnering with Puget SoundKeeper Alliance to raise awareness of threatened water sources in the region.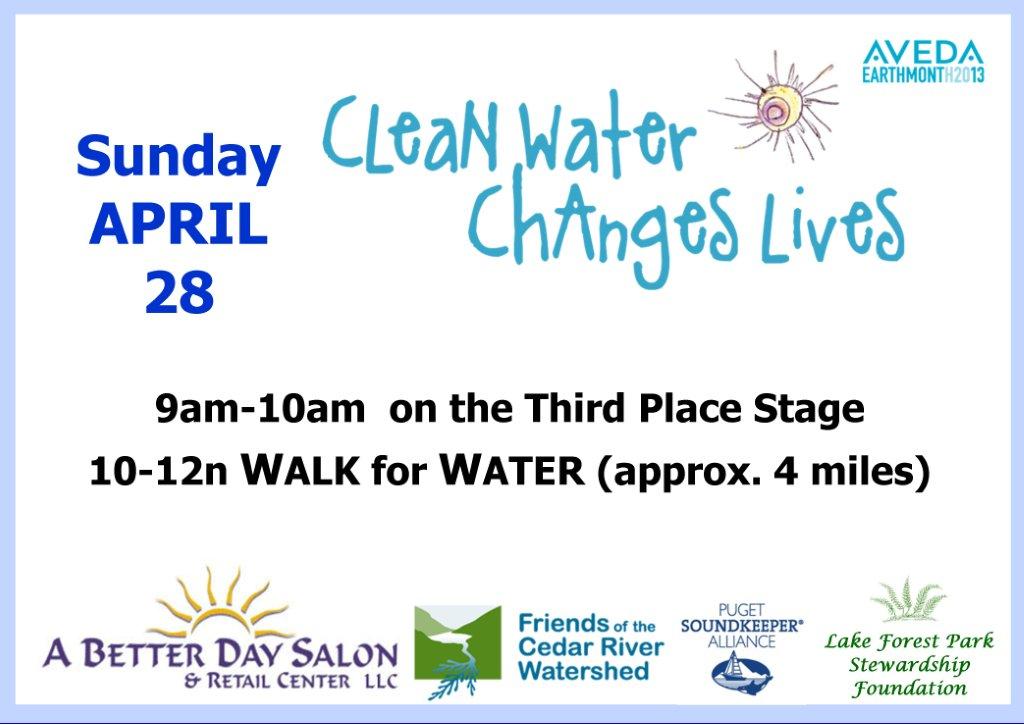 This year, Douglas and Janiece have organized a Walk for Water on Sunday, April 27th.  Please join us for an educational program on the Third Place Commons stage from 9 am to 10 pm.  Then, take a 4 mile walk around the creeks of Lake Forest Park.
Douglas and Janiece have supported Lake Forest Park from the time they opened the salon twelve years ago. They donate dictionaries to each 4th grader in our local schools and invite other merchants to the annual Third Place Commons Breakfast, and most significantly, they understand the value of community.  Their devotion to service is apparent in every aspect of their business.  We are grateful to them for everything they give, and we encourage all of our friends to support them in return.  We guarantee a visit to the salon will indeed make yours a better day.