We want to get straight to the point because the need is real. We're writing to ask for your support for Third Place Commons, the Lake Forest Park Farmers Market, and the Market Bucks food assistance program. Will you make a GiveBIG gift today?
This week GiveBIG is partnering with #GivingTuesday to bring us a big 48-hour giving event on May 5 and 6, a chance for everyone to rally around the causes that matter. We hope you will rally around Third Place Commons and the Lake Forest Park Farmers Market!​​​

Your gift will go twice as far with a $2,500 matching fund!​
Thanks to a generous group of Third Place Commons board members, all donations will be matched up to $2,500, which means your gift will go twice as far! Please help us maximize those matching dollars. Make a GiveBIG gift today!
We know these are difficult times and not everyone can afford to give right now. And when the Commons is once again able to open to the public, we will be here for you! Programs at Third Place Commons are always free and open to everyone. Meet with your friends, read a book, use the Wifi. Our space is your space.
But if you are able to give, please know that your gift matters more than ever right now. The cancelation of our fundraising breakfast in March left us with an enormous shortfall to fill. And as we prepare to open a much smaller market this week, we're bracing for more difficult times ahead.
Your gift of support will help sustain Third Place Commons and the LFP Farmers Market through this challenging time of crisis and ensure that when we're once again allowed to be together, your Commons community will be here for you.​
Your gift will also help fund our vital Market Bucks Food Assistance Program, which is more important than ever this year as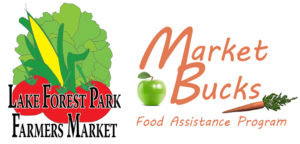 more and more neighbors are out of work and struggling with food insecurity.
Through Market Bucks, we partner with local organizations like Hopelink, the Shoreline-Lake Forest Park Senior Center, and others to get free market food vouchers to those most in need in our community. Your support makes it possible.
​​The time has come and the moment is now. Early giving for GiveBIG has already begun, so please GiveBIG today!