As we all begin to wind down our summer fun and fall into a season of shorter days and cooler temperatures, Third Place Commons will ease your transition this month with a variety of fun and engaging programs.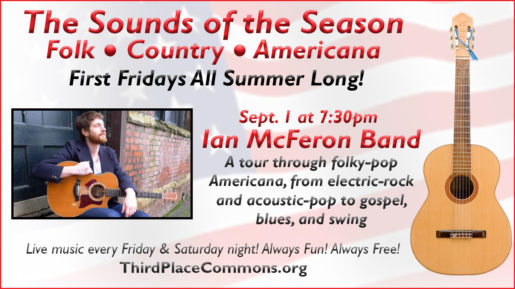 The Commons will kick things off with an ending of sorts, the finale of the summertime folk, country, and Americana music series, The Sounds of the Season. On Friday, September 1st, the series will end on a high note with the return of Lake Forest Park's favorite wandering troubadour, Ian McFeron.
Many folks will remember that Shorecrest High grad McFeron was the keynote speaker at the Commons' annual community breakfast last winter where he touched everyone with his heartfelt words.
The Ian McFeron Band (which also features McFeron's wife and fellow Shorecrest alumna Alisa Milner) has recorded eight studio albums and toured extensively around the country and even internationally. McFeron – who has shared a stage with musical heavy hitters including Patty Griffin, Sister Hazel, Shawn Mullins, and Brandi Carlile among others – brings his soulful warmth to a musical tour through folky-pop Americana this Friday, Sept. 1 at 7:30 PM.
On Saturday, September 23rd starting at 10am, the Commons will offer up something truly special for writers in the community when writing coach Cami Ostman serves up a free, full day workshop for writers.
The Get Your Book Done: Writers' Retreat will help you find out why your story is important and needs to be written. Learn how to overcome the four stumbling blocks writers face, calm your inner critic, and stay inspired to finish your book. Like every event at the Commons, the workshop is free, but registration is requested for planning purposes.
Looking for another way to be creative? Want to get some firsthand experience with the always beloved, but newly refinished wooden tables? Drop by on Saturday, September 2nd from 10am to 4pm for the monthly Commons Art-In when visual artists of all media and experience levels gather at the wooden tables to create together. Or chill out with new friends by heading to the tables for the stress relief fun of Coloring for Adults on September 26th (and every 4th Tuesday) from 5:30 to 7:30pm.
Or enjoy the freshly renovated Stadler Meeting Room by stopping into one of the weekly foreign language conversation groups. French conversation takes place on Tuesdays from 5:30 to 7pm and the Spanish language group meets on Thursdays at the same time. Both groups welcome speakers of all levels and will be delighted if you come by to say "Bonjour!" or "¡Hola!" German and Turkish groups also meet during the month and a new Irish study and discussion group is just around the corner, so check the calendar.
Of course, the month is jam-packed with other great programs as well, like live music every Friday and Saturday night (dancers welcome!), a special day of talented student musician recitals on September 16th, and the welcome return after a summer break of Kaleidoscope Play and Learn sessions for little ones and their caregivers every Thursday morning at 10:30.
And yes, the fabulous Lake Forest Park Farmers Market continues every Sunday from 10-3 through October 15th, which means you can also enjoy your favorite healthy, farm-fresh food and locally made treats all month long.
Events at Third Place Commons are always free and open to the public. So be sure to check the Commons calendar and join in the fun!