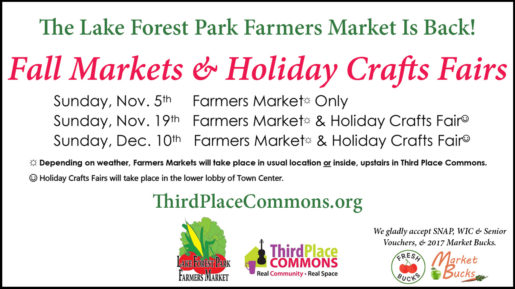 Join us this coming Sunday, Nov. 5th from 10 AM to 3 PM for the first of our three Lake Forest Park Special Fall Farmers Markets!
Don't miss your chance to head back to the market for organic and fresh goodies from many of your favorite farmers plus delicious treats from local producers of all kinds. Whether you're in the market for organic fruits and veggies, craving fresh meat and eggs, or stocking up on yummy Washington delicacies and specialty foods, the LFP Farmers Market has got you covered.
While the daily vendor list is always subject to change, here's who is expected to attend:
Farmers/Growers: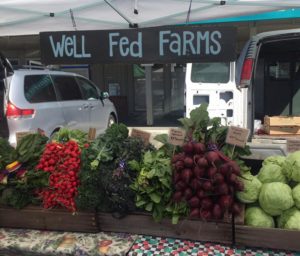 Alvarez Organic Farm
Collins Family Orchards
Garden Treasures
Hidden Rivers Farm
Well Fed Farm
RP Guerrero Farm
Whitehorse Blueberry Farm
Raft Island Roses (Nursery)
Producers:
Wilson Fish
Blue Cottage Jams
Doll House Baked Goods
Good Grub Granola
Greenwood Cider
Pete's Perfect Toffee
Seafire Sauces
Lopez Island Vineyards
Shen Zen Tea
North Whidbey Farm
La Pasta
Ready to Eat (outdoor only):
Drummin' Up Wontons
Vespucci Pizza
Special Guest:
Dennis Cant – Metal Artist
We'll also be pleased to welcome the good folks from our mall owners, Merlone Geier Partners, as our Day Sponsors for the market, and they look forward to hearing your thoughts about Town Center.
I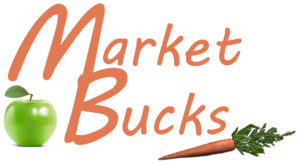 f you've still got 2017 Market Bucks that you received from one of our community partners, you can still use them at each of these special farmers markets. And of course, we're always happy to accept your WIC & Senior Vouchers and to match your SNAP benefits with extra Fresh Bucks to use on fresh fruits and veggies.
The market will likely be outside in its regular spot at the corner of Bothell Way NE & Ballinger Way NE adjacent to LFP City Hall. (Unless the weather turns really bad, in which case look for it inside, upstairs at Third Place Commons.)
Also remember to mark your calendar for the upcoming farmers market/Holiday Crafts Fairs combo events on Nov. 19th and Dec. 10th. See you at the market!