Wow, there's a lot going on in December at Third Place Commons! From an indoor holiday farmers market & crafts fair to dance recitals and dance lessons to holiday concerts and the ever popular Caspar Babypants. And of course, we'll be enjoying great live music and dancing every Friday and Saturday night just like always. With so much happening, there's surely something to put you into the spirit of the season.
Here's a quick overview of all the awesome stuff happening in December. And remember that everything is free and everyone is welcome at the Commons! So have a look and join us, won't you?
Brazz (Brazilian Jazz) 
Fri, Dec. 1, 7:30 PM
Combining American jazz standards with Brazilian sambas and bossa novas, Brazz performs the tunes of great songwriters from Rodgers & Hart to Jobim & de Moraes.
Sheri Roberts Greimes and Jo Momma (Blues)
Sat, Dec. 2, 7:30 PM
The Northwest's powerhouse vocalist and her band deliver an eclectic list of tunes in a unique signature style.
Candy Cane Lane – WA School of Dance
Sun, Dec. 3, 2:00 PM
Talented dance students share a Holiday performance sure to get you in the spirit!
Helen Zhou Piano Recital
Sun., Dec. 3, 4:00 PM
Miniature musicians show off their new piano chops.
Ananda Washington Christmas Music
Tues, Dec. 5, 7:30 PM
Choral and instrumental music of the season.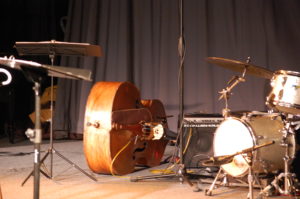 Kate Voss and the Big Boss Band (Swing Jazz)
Fri, Dec. 8, 7:30 PM
Seattle Weekly and Earshot Jazz's best jazz vocalist of 2017 returns to the TPC stage to keep you swinging to her favorite holiday tunes.
Northwest Ballet Center Holiday Performance
Sat, Dec.  9, 1:00 PM
NW Ballet Center presents their annual holiday recital.
Ballroom Dance Lesson
Sat, Dec. 9, 6:00 PM
Learn the steps you'll need to keep up with the beat and swing your partner to the tunes of 85th Street Big Band!
85th Street Big Band (Big Band)
Sat, Dec. 9, 7:30 PM
This Third Place Commons staple will bowl you over with their big sound and holiday cheer!
LFP Farmers Market – Special Winter Market 
Sun, Dec. 10, 10:00 AM – 3:00 PM (Inside at the Commons.)
Savor the last winter bounty once last time from your favorite vendors including fresh, local produce, meats, handmade treats, and more. Get fresh goodies for your special holiday meals and stock up on those precious market specialty items to hold you through the long winter to come.
Holiday Crafts Fair
Sun, Dec. 10, 10:00 AM – 3:00 PM (Lower level of Town Center)
A popular annual tradition returns! Chock full of jewelry, fabric arts, wearables, fine arts, holiday decor, kids' items, lotions, soaps, and more, all handcrafted by local, Washington artisans. Find something perfect for everyone on your list (including yourself)!
Left Turn on Blue (Soul/Blues) 
Fri, Dec. 15, 7:30 PM
This high energy 12-piece band's killer horns, powerhouse vocals, and dynamic rhythm section get everyone up on the dance floor with their classic soul, blues, funk, and swing.
Northwest Ballet Center Holiday Performance
Sat, Dec. 16, 1:00 PM
Another great holiday recital from the NW Ballet Center.
Cascadia Big Band (Big Band)
Sat, Dec. 16, 7:30  PM
Another TPC favorite! 17 pieces of brassy jazz playing their holiday favorites, and yours, too!
Milner Family Fiddles
Sunday, December 17, 11:00 AM
The Milners bring their Texas style bluegrass to the Commons every other month.
LFP Chamber Music
Sun, Dec. 17, 1:00 PM
LFP Public Schools students present chamber music perfect for a chilly December afternoon.
Swingy's Swinging Holiday Show
Sun, Dec. 17, 6:00 PM
The Northwest's premiere rockabilly band and has been helping swing dancers boogie for 10 years. Expect to jump out of your seat when the band starts to play.
Caspar Babypants – Jump For Joy Concert!
Tues, Dec. 19, 10:30 AM
Sing and dance along with one of the most popular children's performers in the Northwest for an all-ages family concert. Presented by Lake Forest Park Library.
The Fabulous Roof Shakers (Blues)
Fri, Dec. 22, 7:30 PM
Regional favorites for their vintage East Coast Rhythm and Blues, Soul, and Rock music with a rock solid rhythm section, gritty vocals, wailing blues harp, and soulful saxophone.
Eugenie Jones (Jazz)
Sat, Dec. 23, 7:30 PM
Reminiscent of style and sophistication of iconic vocalists of the past, Jones will both inspire your feet on the dance floor and soothe your harried spirit in this busy holiday season.
Little Bill and the Blue Notes (Blues)
Fri, Dec. 29, 7:30 PM
Since 1956 Bill and his band have wowed audiences with their take on rhythm and blues, which are sure to get you in the mood to celebrate the New Year's weekend ahead.
Smilin' Scandinavians (Polka)
Sat, Dec. 30, 7:30 PM
Seattle's #1 polka dance band! Well known for their mix of Midwestern polka, Scandinavian folk, traditional country western, Dixieland and big band swing, these Scandinavians also mix in enough humor to keep even the grumpiest crowd smiling.
All of this PLUS all our regular weekly and monthly events like foreign language conversation groups, game nights, Kaleidoscope Play and Learn sessions, Art-Ins, and more! Check the calendar for all the details.
Your Commons Community is waiting for you! So take a break from holiday hubbub and join us for the holly-jolliest of months.
Want to support great community programming like this and hundreds of other free events all year long? Find out how to make a tax-deductible*, year-end gift here.
Thanks and see you at the Commons!