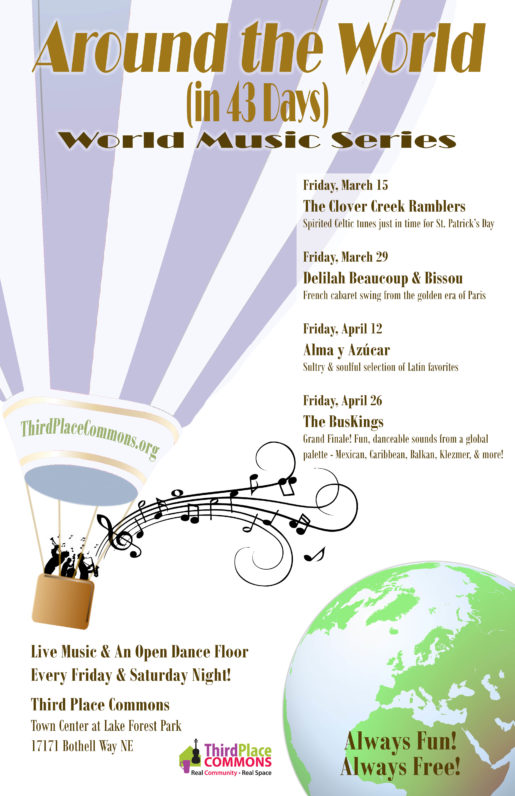 If you've got wanderlust, why not travel the world musically with Third Place Commons now through April? Around the World (in 43 Days) presents four nights of world music from Celtic to Latin to French cabaret and more.
The fun starts this Friday with a Celtic themed show just in time to get you warmed up for St. Patrick's Day weekend. Then, every other Friday through April, head to the Commons for a fun evening of dance music from a different corner of the world.
The Clover Creek Ramblers – Friday, March 15th
Kicking off the series, Clover Creek Ramblers will be playing a combination of Celtic, country, and bluegrass music that's sure to get your toes tapping and your luck flowing with this special performance just ahead of St. Patrick's Day.
Delilah Beaucoup & Bissou – Friday, March 29th
This time we make our way to the Golden era of Paris with the smooth sounds of Delilah Beaucoup & Bissou! Delilah's sultry interpretations of French gypsy swing, blues, and classic standards are reminiscent of jazz divas from a bygone era and are sure to make you swoon with delight.
Alma y Azúcar – Friday, April 12th
Our series continues heating up with the illustrious Alma y Azúcar serving up an exquisite and passionate selection of Latin and jazz favorites for all. Embark on an excursion of soul, tradition, and Latin flavor that you won't want to miss.
The BusKings – Friday, April 26th
Closing out our series with one last memorable performance, the BusKings will knock your socks off with their colorful palette of worldly music! Bringing to the stage the lively, danceable sounds of Klezmer, Mexican, Balkan, and more, the BusKings will take you on a ride that you won't ever want to get off!
Of course, you can always find great music and an open dance floor every Friday and Saturday night at 7:30 PM. So if you just can't get enough, check out the online calendar to see who else will be taking to the stage in the weeks to come.
Third Place Commons is your community nonprofit where real community is fostered in real space through over 900 free events each year and through the Lake Forest Park Farmers Market. Learn more here and make a gift to support your Commons community here.
See you at the Commons!