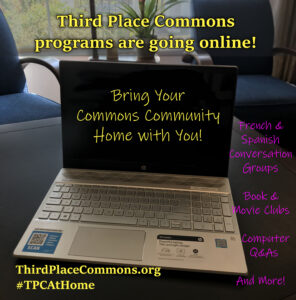 We know you miss the Commons and your Commons Community. So do we!
Staying home right now is the right thing to do. But it can also be isolating… and boring! So let's change that together.
Unfortunately, it may be a while before we can safely meet inside the Commons again, but that doesn't mean we can't visit. Until we can once again gather in physical space, let's build community in digital space! 
Rolling out over the next few weeks will be online ​meet-ups of some ​of your favorite longtime groups, as well as some new ones. Watch for foreign language conversation groups to return to the calendar, as well the Computer Q&As. We'll also have fun additions like book and movie clubs, along with a series of stand alone programs tailor made just for you, our Commons community.
Let's Connect! Watch our 
online calendar
 and stay tuned for more details coming soon!
#TPCAtHome #StayHomeStayConnected #CommonsConnection #YourCommonsCommunity