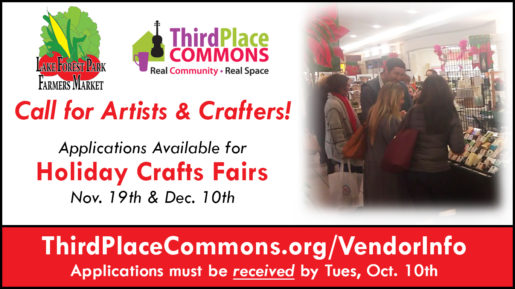 Applications are now being accepted for the Lake Forest Park Farmers Market's 2017 Holiday Crafts Fairs. Local and Washington-based artists and crafters of all kinds are encouraged to apply.
This holiday season, shoppers will be treated to two indoor holiday crafts fairs where they can find unique and one-of-a-kind gifts for everyone on their holiday lists. The first will take place on Sunday, November 19th, right before Thanksgiving and the crush of Black Friday. The second holiday crafts fair will take place on Sunday, December 10th, in plenty of time for both Hanukkah and Christmas shopping.
Each market will take place from 10 AM to 3 PM and will correspond with a simultaneous farmers market. Crafts markets will take place in the lower level of Lake Forest Park Town Center while the farmers markets may take place outside in their usual locations or inside at Third Place Commons, depending on the weather. An additional farmers market (with no crafts fair) will also take place on Sunday, November 5th.
All complete application packets received by Tuesday, October 10th will be considered for these juried events.
No matter your medium or style, you are encouraged to submit an application for consideration. The fair seeks to present a broad spectrum of creative endeavors to offer shoppers something for every taste. All items presented at the Holiday Crafts Fairs must be handmade in Washington by the individuals selling at the market.
Please visit the Vendor Info page and review the Holiday Crafts Application carefully for full details.