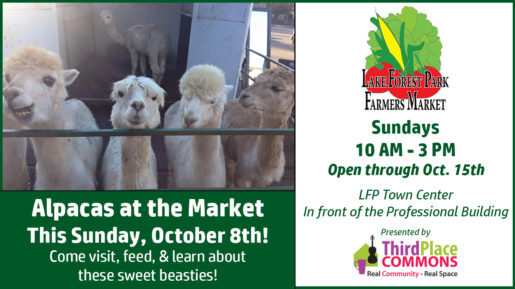 Sunday, October 8th, head to the Lake Forest Park Farmers Market for the welcome return of everyone's favorites, the Heart of Dreams Alpacas.
Heart of Dreams is a small, family owned farm located in the foothills of the Cascade Mountains. It sits on five acres of rolling pastures, which are home to a growing herd of alpacas and many other animals. Heart of Dreams owner Pam Wilmot not only spins the alpacas' fur to make beautiful, handmade shawls and other crafts, but she also recently became a regular vendor at the market with her tasty Good Grub granola!
The alpacas are always a highlight of the market when they come, so bring the kiddos or just stop by, grab a carrot, and feed the alpacas yourself. Either way, these sweet creatures are sure to make you smile!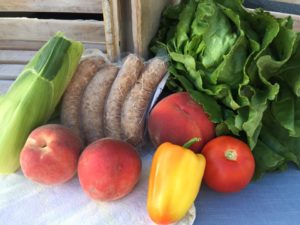 Then, on Sunday, October 15th, don't miss the Closing Day Party, featuring giveaways, a Halloween costume party, and more surprises. Mark your calendar now and stay tuned for details!
The market continues to be overflowing with all your favorites in yummy, fresh fall produce straight from the farm. And you'll also find all the fresh meat, fish, cheese, pastas, sauces, jams, breads, baked goods, wines and hard ciders, tasty snacks, sweet treats, and hot eats the you need to fuel up for game day.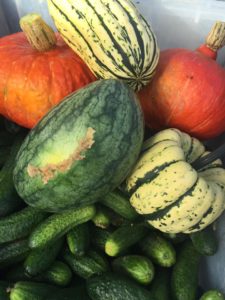 And don't forget that the LFP Farmers Market will gladly accept your WIC and Senior Vouchers, Market Bucks, and SNAP Benefits as well. And when use your SNAP Benefits, they'll give you additional matching Fresh Bucks (up to $10) for fresh, nutritious fruits and veggies.
So come on down each Sunday through October 15th! See you at the market!