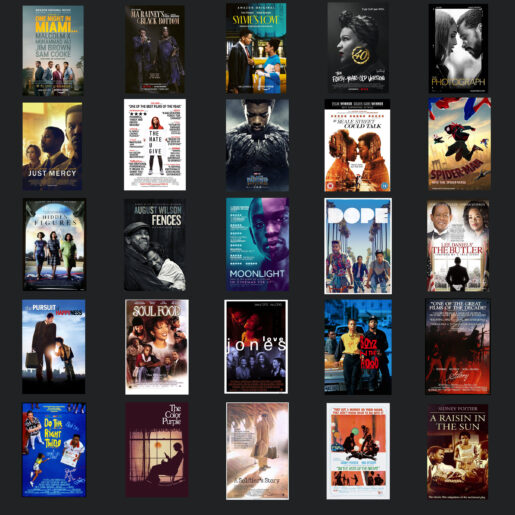 Black History Month may be nearly over, but we all know that delving into Black history, stories, and voices warrants far more than 28 days of attention. So as the month winds down, the TPC Movie Club brings you "25 Movies We Love" to keep exploring throughout the months to come.
We've tried to include something for everyone and every taste. Love stories, family stories, war stories. Tales of trauma and tales of triumph. Laugh-out-loud comedies and grand adventure films. Some are familiar favorites and mega-hits. Some are hidden gems you may have missed. Some are classics you might have seen decades ago or never got around to tackling. All are worth checking out or revisiting.
They are grouped by year, working backwards chronologically, but they are not in ranked order. Some of our very top favorites are hidden in the middle of the list, or buried at the bottom because they're older. But trying to actually rank so many good movies would be too painful.
Recency is definitely a thing on this list. There is certainly a critical mass of great films from the last decade. 2020 and 2018 were especially rich years for our selections! But we've also identified some really interesting and beloved films going all the way back to the 60s. They are all worthy of your time.
There are many others, of course! Far too many for any one list. We know there are big gaps in this list. We've picked selections that offer a wide variety of stories, experiences, and voices, but don't hate us if we've left your favorite off the list.
We've mostly skipped the flashy biopics of famous people, assuming you've seen them all. They're great stories, but sometimes the freedom of fiction can reveal unexpected truths and daily lives that are more relatable than the grand stories of celebrated legends. (But if you're really dying for a biopic about someone famous, we'll give you a short list at the bottom.)
For each selection, we've included the "Critics Consensus" from Rotten Tomatoes as well as our quick, hot take. Chime in on social media (#TPCMovieClub) to let us know what you love and what you would add to the list!
And if you love movies half as much as we do, join us for the TPC Movie Club, which meets on the second Tuesday of each month at 7:30 PM.
---
One Night in Miami (2021) "A hauntingly powerful reflection on larger-than-life figures, One Night in Miami finds Regina King in command of her craft in her feature directorial debut."
Our Take: Trust us. When Malcolm X, Muhammad Ali, Jim Brown, and Sam Cooke walk into a hotel room together, you want to listen. Plus, some great singing from Leslie Odom Jr. as Cooke.
Sylvie's Love (2020) "A romance for the ages, Sylvie's Love wraps audiences in the sweet embrace of its old-fashioned romance and celebration of Black love."
Our Take: Black centered love is too rarely seen, and this is a charming story with a tender heart, plus some great jazz.
Ma Rainey's Black Bottom (2020) "Framed by a pair of powerhouse performances, Ma Rainey's Black Bottom pays affectionate tribute to a blues legend — and Black culture at large."
Our Take: Speaking of great music, this adaptation of an August Wilson play dazzles, led by stand-out performances from Viola Davis and the late Chadwick Boseman.
Forty-Year-Old Version (2020) "The Forty-Year-Old Version opens a compelling window into the ebbs and flows of the artist's life — and announces writer-director-star Radha Blank as a major filmmaking talent with her feature debut."
Our Take: This gem feels packed full of truths and very real experience, but also happens to be incredibly funny and vital.
The Photograph (2020) "Gorgeous visuals, an affecting love story, and simmering chemistry between Issa Rae and Lakeith Stanfield keep The Photograph solidly in focus."
Our Take: Romance, mystery, family drama, this tale unwraps in layers and we love the layers.
Just Mercy (2019) "Just Mercy dramatizes a real-life injustice with solid performances, a steady directorial hand, and enough urgency to overcome a certain degree of earnest advocacy."
Our Take: An unsparing, and infuriating, look at racial injustice in our legal system, it will nonetheless leave you feeling hopeful that justice can (eventually) prevail and determined to be the change.
The Hate U Give (2018) "Led by a breakout turn from Amandla Stenberg, the hard-hitting The Hate U Give emphatically proves the YA genre has room for much more than magic and romance."
Our Take: One of our top faves! Super timely and relevant, this story could be ripped from our most painful headlines. But even as it tackles the toughest topics, at the center of this film (and the book on which it's based) is a surprisingly heartfelt story of a loving family that will leave you feeling hopeful and inspired. And Stenberg is truly a Star(r)! (Pardon the pun.)
Black Panther (2018) "Black Panther elevates superhero cinema to thrilling new heights while telling one of the MCU's most absorbing stories — and introducing some of its most fully realized characters."
Our Take: What's left to say about this dazzling, joyful superhero tale that is firmly, magnificently rooted in its African identity and power? Fantastic on every level! (Also check out Ryan Coogler and Michael B. Jordan's previous partnership in Fruitvale Station.)
If Beale Street Could Talk (2018) "If Beale Street Could Talk honors its source material with a beautifully filmed adaptation that finds director Barry Jenkins further strengthening his visual and narrative craft."
Our Take: Like Just Mercy, this film tackles the injustice of a Black man falsely accused and incarcerated. But this gorgeous film with an achingly beautiful love story at its heart is also about the devotion of a loving family who never stops fighting for the ones they love. A real favorite!
Spider-Man: Into the Spider-Verse (2018) "Spider-Man: Into the Spider-Verse matches bold storytelling with striking animation for a purely enjoyable adventure with heart, humor, and plenty of superhero action."
Our Take: This one is just way, way too much fun to miss. Seriously funny and entirely original, nothing like your typical superhero fare, and the better for it.
Hidden Figures (2017) "In heartwarming, crowd-pleasing fashion, Hidden Figures celebrates overlooked — and crucial — contributions from a pivotal moment in American history."
Our Take: We need to uncover as many of history's "hidden figures" as we can, and this is a fabulous place to start!
Fences (2016) "From its reunited Broadway stars to its screenplay, the solidly crafted Fences finds its Pulitzer-winning source material fundamentally unchanged — and still just as powerful."
Our Take: Denzel and Viola are two powerhouses. Put them together and sparks will fly. Plus, this August Wilson classic always delivers.
Moonlight (2016) "Moonlight uses one man's story to offer a remarkable and brilliantly crafted look at lives too rarely seen in cinema."
Our Take: No shade to La La Land, but the right movie won the Oscar in 2016. A deeply moving story about characters who deserve to be seen.
Dope (2015) "Featuring a starmaking performance from Shameik Moore and a refreshingly original point of view from writer-director Rick Famuyiwa, Dope is smart, insightful entertainment."
Our Take: More people need to see this movie! It's so funny and feels completely original.
Lee Daniel's The Butler (2013) "Gut-wrenching and emotionally affecting, Lee Daniels' The Butler overcomes an uneven narrative thanks to strong performances from an all-star cast."
Our Take: An intriguing look at another "hidden figure" that also reveals the broad sweep of history.
Pursuit of Happyness (2006) "Will Smith's heartfelt performance elevates The Pursuit of Happyness above mere melodrama."
Our Take: The Noughties (2000-2009) were a bit of a dry spell on our list, but this true-life tale of triumph hits all the right emotional notes while revealing some of the very real challenges of those facing homelessness.
Soul Food (1997) "Much like the titular cuisine, Soul Food blends a series of savory ingredients to offer warm, generous helpings of nourishment and comfort."
Our Take: Sometimes you just want to curl up with the cinematic equivalent of comfort food, and this family drama serves it up nicely.
Love Jones  (1997) No Critics Consensus available.
Our Take: Funny, sexy, and real, Love Jones has become an unlikely cult classic that will leave you jonesing for more.
Boyz N the Hood (1991) "Well-acted and thematically rich, Boyz N the Hood observes Black America with far more depth and compassion than many of the like-minded films its success inspired."
Our Take: This hard-hitting look at life in South Central LA is a classic that tackles tough issues with courage, clarity, and heart.
Glory (1990) "Bolstered by exceptional cinematography, powerful storytelling, and an Oscar-winning performance by Denzel Washington, Glory remains one of the finest Civil War movies ever made."
Our Take: Washington, Morgan Freeman, and the whole cast bring an often neglected chapter in history stirringly to life in this fictional account of the Civil War's real first all-Black volunteer regiment.
Do the Right Thing (1989) "Smart, vibrant, and urgent without being didactic, Do the Right Thing is one of Spike Lee's most fully realized efforts — and one of the most important films of the 1980s."
Our Take: At once both terrifically funny and startlingly searing, it's a classic for a reason.
The Color Purple (1986) "It might have been better served by a filmmaker with a deeper connection to the source material, but The Color Purple remains a worthy, well-acted adaptation of Alice Walker's classic novel."
Our Take: Grab your tissues before you settle in for this beloved classic that will give you all the feels. (A two-hanky favorite.)
A Soldier's Story (1982) "A meticulously-crafted murder mystery with incisive observations about race in America, A Soldier's Story benefits from a roundly excellent ensemble and Charles Fuller's politically urgent screenplay."
Our Take: Howard E. Rollins, Jr. was taken from us too soon. Fortunately, we have excellent films like this one to remind us how good he was.
In the Heat of the Night (1967) "Tense, funny, and thought-provoking all at once, and lifted by strong performances from Sidney Poitier and Rod Steiger, director Norman Jewison's look at murder and racism in small-town America continues to resonate today."
Our Take: So much better than the 80s TV show it inspired, this classic is (unfortunately) as relevant as ever.
Raisin in the Sun (1961) "A superlative cast vividly captures the turbulence of this classic drama about the constrictions caused by race in postwar Chicago."
Our Take: Legends Sidney Poitier (mesmerizing as always) and Ruby Dee headline a stellar cast (which includes Louis Gossett, Jr.'s film debut) in this clear-eyed look at a poor Black family striving to build a better life for themselves.
A shortlist of interesting biopics (in no particular order) for folks who just can't get enough of those true stories:
Marshall (Thurgood Marshall)
Harriet (Harriet Tubman)
Selma (Dr. Martin Luther King, Jr.)
42 (Jackie Robinson)
Malcolm X (Malcolm X)
Bessie (Bessie Smith)
Race (Jesse Owens)
Ray (Ray Charles)
Get On Up (James Brown)
Of course, this is just a start. We could go on, and on, and on. But we'll stop here so you can tell us what other movies you love!