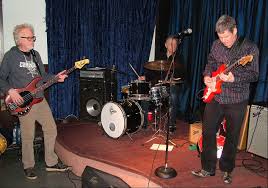 On Friday evening, Chris Stevens and the Surf Monkeys will share their scorching blues and surf chops with the Third Place Commons.
Seattle guitarist and singer Chris Stevens has been a favorite of Northwest blues fans for many years.  His intense playing calls the prime years of stellar guitarists like B.B. King, T-Bone Walker and Kenny Burrell to mind.  Preferring to deliver his electric blues lines with the rich tones of a big Gibson archtop, Chris combines scorching blues feeling with dazzling chops and constantly surprising musical ideas to create a style that cuts across genres, including blues, jazz… and surf!
Taking their unusual name from a song title by legendary blues guitarist Freddy King, the Surf Monkeys keep a firm footing in the blues while stretching the boundries with ultra cool spy themes, reverb drenched surf twang and Chris' own "blues on the edge of jazz" originals.  The Surf Monkeys truly are the missing link!
And on Saturday night Mark Dufresne, one of the most sought after Blues talents in the
Northwest will keep the Commons dancing.  The Washington Blues Society has awarded him for best vocalist, songwriter and harmonica more than any other artist.
He has recorded three CD's of all original music.  "Out of That Bed",  "Have Another Round" and "There's A Song In There", which featured the lineup of the former Hollywood Fats Band.
In 2002 Mark joined the coveted band "Roomful of Blues" as lead vocalist.  While in that role the band received a Grammy nomination for "That's Right".  They also won the W.C. Handy award for Best Band – 2004.  The New England Blues monthly awarded him Best Blues Vocalist.  He returned home to the Pacific Northwest in 2006 after a very successful and fun four and a half years.
Recently he has had the pleasure to tour in Europe with  Italy's finest…  Maurizio Pugno, guitar, Alberto Marsico, organ and bass, and Gio Rossi..  excellent musicians..  excellent pasta…..
His work on the chromatic harmonica is considered as some of the most innovative in Blues music.  His ability to circular breathe has left audiences amazed.
"DuFresne is as distinctive as a vocalist as he is a fiery player;  rather than recycling old riffs, his original compositions are tuneful, melodic and grooveworthy.." – Blues Review Magazine….
Music begins at 7:30 every Friday and Saturday night.  Get to the Commons early to grab a seat and some dinner.
And thank you to our community music sponsors.  If you or your organization are interested in sponsoring an evening of music in the Commons, please contact Constance Perenyi at [email protected]
This weekend of music has been made possible by Macy's!