Join us in the Commons tonight with the The Smilin' Scandinavians. Widely regarded as Seattle's #1 polka band, the Smilin' Scandinavians have been around since May 17, 1995, when bandleader Toby Hanson got a group of his friends at Cornish College of the Arts to form a polka band. Since that time they've built a reputation as one of the Northwest's most fun and entertaining polka bands.
The band is well known for their mix of Midwestern polka, Scandinavian folk, traditional country western, Dixieland and big band swing. Besides being a highly-regarded dance band, the Smilin' Scandinavians are also a top-notch show band, mixing in humor and unpredictable antics to keep even the grumpiest crowd smiling. Whether playing at one of the nation's top polka festivals or taking the stage at a county fair, the Smilin' Scandinavians are always happy to entertain with some good, toe-tappin' music.
The name "Smilin' Scandinavians" was inspired by both The Happy Norwegian Myron Floren (of Lawrence Welk Show fame) and pioneer polka performers The Six Fat Dutchmen. Many people find the notion of smiling Scandinavians odd since Scandinavians have a well-deserved reputation of dour stoicism. The band does all it can to show just how much fun Scandinavians are capable of.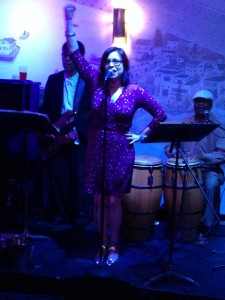 And on Saturday night Alma y Azucar will bring you an exquisite and passionate selection of Latin styles and flavors. From the bouncy feel of 'Perfidia' and 'Quizas' to the passionate tango version of 'Besame Mucho', the sultry bossa nova 'Waters of March' and the salsa sound of 'Bemba Colorá' or 'Oye Como Va', these tunes have captured hearts and entertained internationally for decades.
One of the most striking things about Alma Villegas is her ability to honor the rich traditions of the various Latin genres that she performs, without being singularly defined by them. With her band Alma y Azucar, Alma masterfully integrates beloved Latin rhythmic styles including Cha Cha, Bossa Nova, Tango, Son, Rumba, Salsa, Samba and more with more contemporary influences, resulting in what she calls Latin music for everyone.
Born and raised in Tijuana, Mexico, Alma grew up with a range of musical influences that included 70s disco, American show tunes, pop, Mariachi and traditional Boleros, which her mother, also a vocalist, would sometimes sing. Alma has been singing professionally since 2001, when she joined the popular Seattle salsa band Camabalache. Soon thereafter, she was hired as one of three lead vocalists with the 12-piece Cuban ensemble Yerba Buena. While working with Yerba Buena, Alma began venturing out with her own groups, playing in wine bars, nightspots and other venues. Stepping up as a bandleader allowed Alma the opportunity to explore a broader palette of expression, while opening her up to a bigger and more diverse audience. Thus, Alma y Azucar was born. With Alma at the front, the band also features esteemed Seattle musicians Fred Hoadley (piano, tres, backup vocals), Steve Okimoto (bass), Ricardo Guity (percussion, backup vocals) and Steve Motsovoy (trumpet, backup vocals).
Thank you to our community music sponsors. If you oryour organization are interested in sponsoring an evening of music in the Commons please contact Constance Perenyi at [email protected].
This weekend of music is made possible by Macy's