As we near th

e end of 2018, I find myself reflecting on our very special community – and on the ways that your support for Third Place Commons makes our community so strong.
The ways in which the Third Place Commons community has impacted me personally are almost innumerable. As I consider the many aspects of our Commons community, I realize that my own experience with the Commons spans many of these groups, and I believe that any of us could say the same.
Will you please consider a gift to help keep these connected Commons communities strong?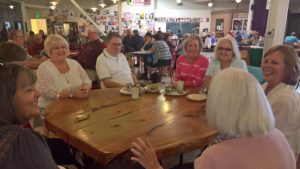 A community of friends – The Commons welcomes old friends every day, and helps build new friendships through weekly programs like game nights, Mahjong Mondays for seniors, and t'ai chi classes. Friends meet regularly for coffee, or have long overdue catch-ups over lunch. They come to listen to music and dance together on weekends and to meet on weekdays as volunteers for things they care about passionately.
A community of families – Families shop the Lake Forest Park Farmers Market together every week of the market season.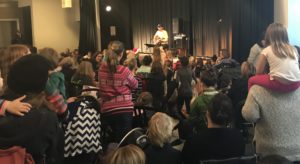 They play and learn together at our weekly Kaleidoscope sessions. They perform and cheer each other on at music and dance recitals on our stage. They sit and read together, play chess on the giant chess board, and have their birthday parties in our space.
A community of colleagues – Third Place Commons is a beloved, go-to meeting space for offsite conversations, committee meetings, one-on-ones, and team retreats. It's also filled every day with folks working remotely, happily finding their own corners while enjoying the camar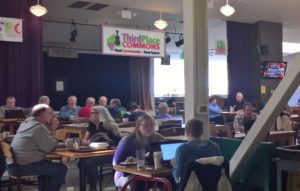 aderie of a shared space that is both theirs and everyone's.
A community of lifelong learners – From the toddlers who learn and play at Kaleidoscope every week to the adventurous adults joining in the foreign language classes to those inquisitive folks who attend the monthly computer Q&A sessions, our Commons community members love to challenge themselves and learn together in our space.
A community of neighbors – Whether you live just around the corner in Lake Forest Park, just up the road in Kenmore, just across the highway in Shoreline, just across the county line in Woodinville, or just over the lake in Kirkland, we are all a community of neighbors. We are bonded by our shared geography that brings us together in the special place that is Third Place Commons. As neighbors, we share a commitment to a strong community and we likewise share a responsibility to help keep our community healthy and vital.
All of this doesn't happen by accident. It takes enormous work, resources, attention, and care to host over 900 free events each year, to organize the Lake Forest Park Farmers Market, to support low-income neighbors through our food assistance programs like Market Bucks, and to foster an environment that is truly safe and welcoming for everyone.
It also takes your generous support. Will you make a year-end gift today to help your Commons community thrive in the year to come?
Thank you for being such a vital part of our Commons community and for joining me in making a gift today. You will feel the difference you make every day at Third Place Commons.
Sincerely,

Norman J. Lieberman
Chair, Board of Directors
P.S. I hope you'll join us for some of our many wonderful events in the coming month – including our always popular indoor Holiday Farmers Market and Crafts Fair on December 16th. And thank you for your gift of support that makes beloved annual events like these possible. See you at the Commons!