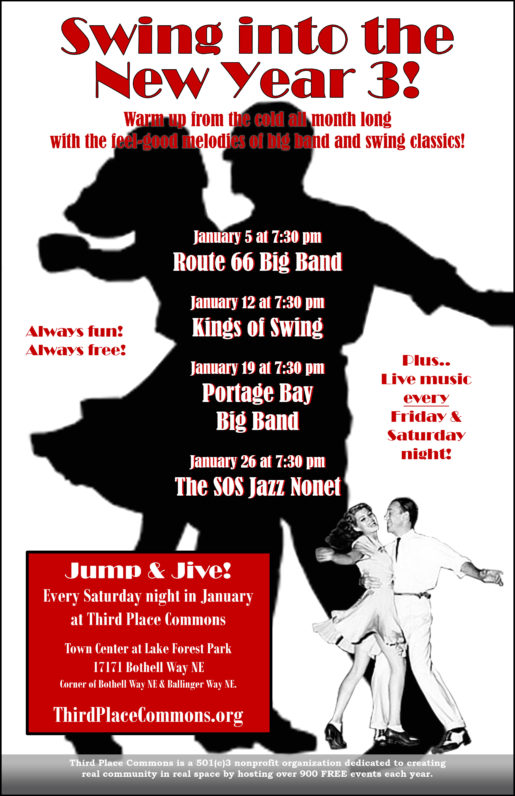 It's 2019 and it's officially time once again to Swing into the New Year at Third Place Commons! This is the third year in a row that the Commons has started the year off in high style with this popular big band series.
Every Saturday in January, head to the Commons for an evening of delightfully nostalgic dance tunes that are sure to get you warm and cozy both inside and out.
The big, big, big band line-up includes the Route 66 Big Band, Kings of Swing, Portage Bay Big Band, and the SOS Nonet.
Of course, there's more great music and dancing every Friday night, too, including:
• Jan. 4th – Chris Stevens Band (Blues)
• Jan. 11th – Mark Hurwitz and Gin Creek (R&B, Soul)
• Jan. 18th – Island Jazz Quintet (Jazz)
• Jan. 25th – Ranger & the Re-Arrangers (Gypsy Jazz)
And don't forget about recurring events like weekly foreign language conversation groups, game nights, tai chi, Mahjong Mondays, Kaleidoscope play and learn sessions, plus monthly events like Art-ins, Coloring for Adults, and Computer Q&As. So whatever you're in the mood for, you'll find something that suits at Third Place Commons in January.
Third Place Commons is a community-supported nonprofit organization dedicated to fostering real community in real space. Third Place Commons is located in the Town Center at Lake Forest Park at 17171 Bothell Way NE, Lake Forest Park 98155.
Remember that events are always free and open to everyone at the Commons. So check the online calendar for all the details and see you at the Commons!