This Friday evening, travel back in time to the earliest days of the Jazz Age with Miss Rose & Her Rhythm Percolators!
The Seattle-based trio faithfully recreates the vintage jazz of the early 1920s to the mid '30s — the era when this original American music provided a playful soundtrack for the flappers who danced the Charleston and sipped illicit booze in the glitzy underworld of the speakeasy.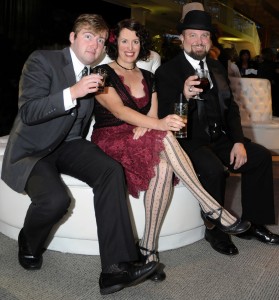 Miss Rose & Her Rhythm Percolators play well-known popular tunes that have since become part of the great American songbook and dust off forgotten gems from the early jazz era. Audiences delight at the un
Singer Sunga Rose croons and strums a ukulele while the Percolators — Carey Rayburn (cornet/flugelhorn/percussion) and Hugh Sutton (piano) — keep time and knock out solos. Miss Rose & Her Rhythm Percolators revive for modern times a wonderful sound from a bygone era.abashed romance, the playful humor, and the irresistible swing rhythms. Some can't help but dance or sing along.
And on Saturday night, with repertoire spanning styles from big band's golden age to the contemporary jazz artists of today, Mach One Jazz Orchestra will deliver high energy, artistic precision and musical dynamism. Since its beginning in 1998, the band has become one of the 'regulars' on the  Seattle area music scene.    With a rock-solid rhythm section, strong soloists, tight ensembles and stylistic variety, MachOne keeps people dancing all night long.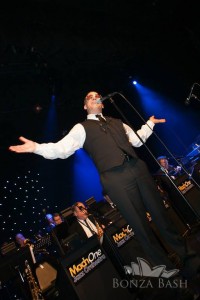 In addition  to the instrumental powerhouse, Mach One has four vocalists – the songs of Ella Fitzgerald, Peggy Lee, Brian Setzer, Michael Buble  (to name a few) come to life when sung by Charlotte Carruthers, Tony Aquirre, Jarrett Mason and Gene Oates. MachOne Jazz Orchestra has a library of over 1,500 songs. These range from big band classics of the 30's and 40's and well-known dance numbers  to the latest from Michael Bublé, Big Bad Voodoo Daddy and Brian Setzer. Their book also includes many showcase numbers from the Doc Severinsen band, Gordon Goodwin's Big Phat Band and others. We can custom fit the music to your special event needs. Swing, Latin, Ballads, Waltzes, Broadway, Jump & Jive – we can play them all! For dancing or listening, Mach One delivers it at the speed of sound!
As always, music in the Commons is FREE and open to the public.  Music begins promptly at 7:30pm and lasts until 9:30.
Come a little early to grab a table and some dinner.  The Commons fills up fast!
Thank you to Madison Marquette and our community music sponsors.  If you or your organization are interested in sponsoring an evening of music in the Commons, please contact Constance Perenyi at [email protected] for more information.