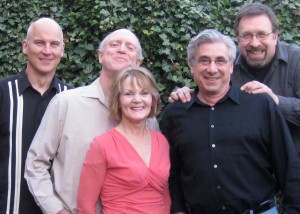 From bossa nova to vintage swing, we have you covered for your dancing needs this weekend in the Commons.
On Friday night, Gruop Amoroso will perform Brazilian jazz and bossa nova classics. The Grupo band members have played together for many years. (Over 20 years for 3 or the members!) And all are experienced musicians with a variety of musical experiences, including samba drumming, musical stage performances, and recording.
And on Saturday evening, the Pacific Cascade Big Band will offer up some vintage jazz. The Pacific Cascade Big band was created in June 2008. It is a band devoted to exploring many of the genres of vintage jazz. This band plays jazz music which became popular during the Swing Era from the early 1930s until the late 1950s.
Weekend music is always FREE and open to the public. Music begins promptly at 7:30pm.
Make sure to arrive early to grab a seat and some dinner!  The Commons fills up fast!
This weekend's concerts are made possible by Macy's! Thank you to all of our community music sponsors!  If you or your organization are interested in sponsoring an evening of music in the Commons, please contact Constance Perenyi at [email protected]