We love Halloween in the Commons, and hope you'll join us for special events all week long.  Of course, Friday is THE day, and we have lots  planned for you!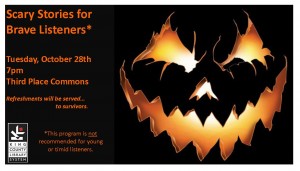 Tuesday, October 28  at 7 pm:    Scary Stories for Brave Listeners
Local storytellers will share frightening, yukky, and true tales of ghosts and hauntings, followed by an open mike for audience members with a scary tale to tell!  Refreshments will be served (to survivors.)  This program is not recommended for young or timid listeners.
Wednesday, October 29 at 7 pm:    96th Street Combo
Expect some spooky tunes from the 96th St. Combo, featuring advanced students from Music Center of the NW.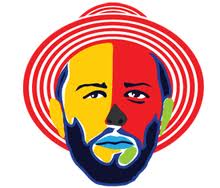 Friday, October 31
Celebrate at Third Place and the Town Center at Lake Forest Park.
4 – 6 pm    Trick-or-treat at participating Town Center merchants.  Look for balloons outside participating stores.
6 – 6:45   Fun Family Music in the Commons.  What a fabulous way to celebrate Halloween!  Musician Eli Rosenblatt brings together world-music, language, movement and imagination in a high-energy mix to create an exciting interactive experience.  This special family performance is made possible by our wonderful friends at KCLS.vvvvvvvvvvvvvvvvvvvvvvvvv
7:30-9:30 Dance Halloween night away with Eli Rosenblatt and his band Salsa Sur .  Son, Salsa and Cha Cha Cha will make you shake it all night long!  Once again, thank you to KCLS for making this performance possible.