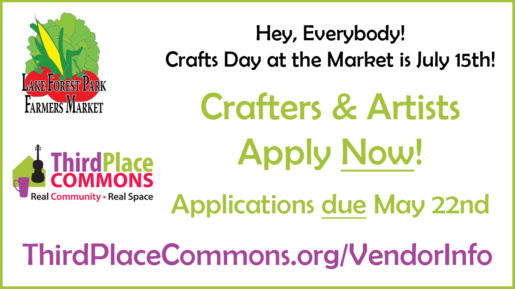 Applications are now being accepted from Washington artists and crafters to participate in the 2018 Crafts Day at the Lake Forest Park Farmers Market, which will take place on Sunday, July 15th.
Crafts Day is a once-per-summer special addition to the regular Farmers Market, which takes place every Sunday from 10 AM to 3 PM in front of Lake Forest Park Town Center and regularly attracts 7,000-9,000 visitors per week.
Artists and crafters of all kinds are encouraged to submit applications for consideration. Please visit the vendor info page and review the Crafts Day application carefully for full details.
All applications must be submitted via postal mail and received no later than Tuesday, May 22nd.
All items presented at the Crafts Day must be handmade in Washington by the individuals selling at the market. The market seeks to reflect a wide variety of media to represent a broad spectrum of creative endeavors, so submit your applications soon!
The Lake Forest Park Farmers Market is presented each year by Third Place Commons, a 501(c)(3) nonprofit organization committed to fostering real community in real space. Learn how you can support the Commons and the LFP Farmers Market here.
The market season opens as always on Mother's Day, Sunday, May 13th, and will continue to run every week rain or shine through Sunday, October 21st.
See you at the market!