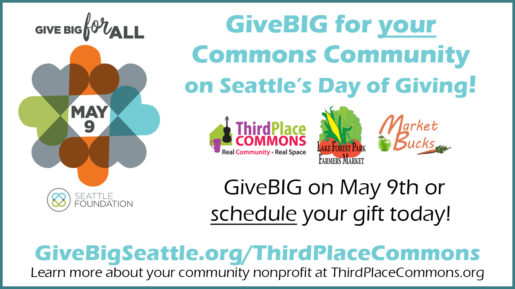 GiveBIG is the Seattle Foundation's annual day of giving when folks across the region are encouraged to give to the things they love and value. We sure hope that Third Place Commons makes it onto your list this year!
Why GiveBIG? Third Place Commons is a 501(c)(3) nonprofit organization where your Commons Community gathers and thrives. GiveBIG to support whatever you love most about your Commons Community: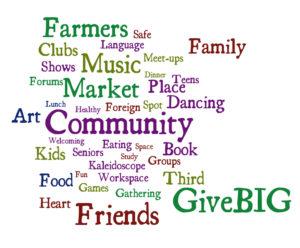 · A safe, welcoming space to gather with old friends and make new ones
· Hundreds of free events each year
· Live music & dancing
· Art & games
· Foreign language groups, book clubs, & other meet-ups
· Mahjong Mondays for seniors
· Kaleidoscope Play & Learn for kids
· School and student performances
· Civic and educational programs
· The Lake Forest Park Farmers Market
· Market Bucks food assistance program for hungry neighbors in need
Or you tell us what you love!
MAKE YOUR GIFT GO EVEN FURTHER!
There will also be Dollars for Change hourly drawings from 8 AM to 8 PM worth an extra $2500 in donations. We'll be in those drawings each hour that we receive a gift during that window, and we'll receive one entry for each gift made to us during that time period. So the more gifts we receive during that time, the better our chances to win those extra funds, which will go a LONG way in a small, but mighty org like Third Place Commons. So if you make a gift, please consider making it during that window of time.
Or schedule your gift now, because scheduled gifts will qualify for entry as well! 
Only your participation and your support make it possible to create real community in real space at Third Place Commons and at the LFP Farmers Market.
So please GiveBIG on May 9th. Or better yet, schedule your gift right now so you don't have to remember next week!
THANK YOU!