Spend a Saturday at Third Place Commons, and you are likely to enjoy a kaleidoscope of experiences.  This Saturday, March 21, will be especially colorful.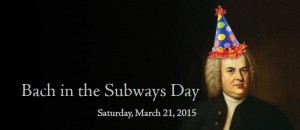 Every year on March 21, Johann Sebastian Bach's birthday, musicians around the world celebrate Bach in the Subways Day by offering performances in subways, public spaces, and concerts open to all. The music is given freely as a gift, and as an invitation to further explore classical music. Please join us for this special celebration in the Commons from 10 to 11 am.
Then, at 2 pm, we welcome back Hula O Lehualani.  At Third Place Commons, we celebrate the seasons with special performances.  Every year around this time, when we are all really ready for a long, tropical vacation, we bring the sunshine to the Commons, courtesy of Krista Espiritu and Hula O Lehualani.
Krista's philosophy embodies the qualities of welcoming inclusion – the Aloha – we strive for every day in the Commons.  Krista describes her school, or halau:I believe in sharing hula with everyone interested, from all ethnic origins, without bias . . .  It is the kuleana/responsibility of our generation to perpetuate the treasures that have been passed down to us from those who have come before us.  We are an inclusive halau with emphasis put on aloha/love, respect/ho'ihi and humility/ha'a ha'a towards the practice of hula and Polynesian dance. It is with this intent that we can create positive energies for one another and for the world we live in.
And the good energy continues through the day.  At 7:30 pm. the Microsoft Jumpin' Jive Orchestra takes the stage.  Specializing in music from the big band era the Orchestra features the "as recorded" musical arrangements. These arrangements are unique to the MJJO and range from Glenn Miller to Benny Goodman to Arty Shaw to Harry James, etc. MJJO is a unique Big Band composed mostly of players who work at or have worked for Microsoft. Throughout the performance these outstanding musicians and singers will have your toes tapping and put a smile on your face.