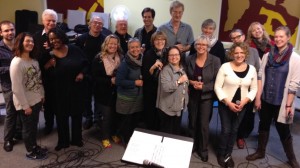 Its not often you get the chance to hear an 18 member vocal group on our weekend music series. (In fact, I think it may be a first!) But this Friday night, at 7:30pm, The Offbeats Vocal Jazz Ensemble will take the Third Place Stage to sing some 8 part vocal jazz arrangements!  Backed by a top notch rhythm section, with John Hansen on keys, this group of vocalists is directed by internationally acclaimed Seattle jazz vocalist Kelley Johnson.
And if you're unable to make it into the Commons on Friday night, or if you just can't get your fill of vocal jazz, grab a seat and some small bites at their Spring Concert on May 16th at the Greenwood Masonic Lodge.  7:00pm
———–
Thank you to Merlone Geier and our community music sponsors.  Because of you, Friends of Third Place Commons is able to bring top notch musical performances to our space.
If you or your organization are interested in sponsoring an evening of music in the Commons, please contact Constance Perenyi at [email protected]