The vision of Third Place Commons is to be a vibrant, safe, welcoming space open to everyone. When folks join together at the Commons, we're reminded how much we all want to be together, learning from our neighbors, celebrating together, creating real community in real space.
Third Place Commons builds real-world community by hosting free in-person and Zoom events including civic, arts, educational, and personal enrichment programs. Among these are numerous stand-alone events throughout the year, and many weekly and monthly recurring events – including live music with an open dance floor every Friday and Saturday night.
Third Place Commons also proudly presents its flagship program, the Lake Forest Park Farmers Market from Mother's Day to mid-October each year.
As a 501(c)(3) nonprofit, the organization achieves its community building and enrichment goals with the help and vision of a vibrant, invested Board of Directors who share a passion for fostering and strengthening our shared Commons community.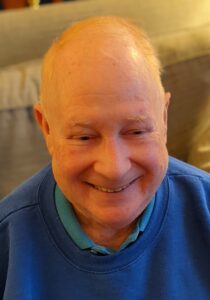 One such volunteer is longtime board member Norman Lieberman. We asked Norman three questions about his experience in our community and on the board. Here's what he said:
Q: HOW LONG HAVE YOU BEEN ON THE THIRD PLACE COMMONS BOARD?
A: Eight years.
Q: TELL US ABOUT YOURSELF, YOUR FAMILY, AND YOUR LIFE IN LAKE FOREST PARK
A: My husband Joe and I moved here ten years ago from Maryland. Our daughter Rose was just starting college in DC so we had an empty nest and a sudden opportunity.  Joe was offered a senior position at UW and I was approaching retirement. Lake Forest Park turned out to be the perfect choice as a place to live and begin a new adventure.  We have made a lot of new friends here!  (So much for the myth of the Seattle Freeze – LOL.) 
I've gotten very involved in a number of not-for-profit organizations.  My longest tenure in any of them has been the Third Place Commons Board.  As an organization, we provide so much for the community in a variety of ways, from the weekend dances to the learning opportunities to the farmers market, each of which serves different and overlapping segments of the community.  Our impact is extensive, and satisfying for those of us who serve in leadership positions.
Q: FAVORITE COMMONS MEMORY (e.g., specific experience, program, or event)?
A: As Chair of the Annual Fundraising Breakfast for several years, I loved the six months of planning and the final event.  This was SO much fun, every year!  It broke my heart, with the advent of COVID, to have to cancel the Breakfast the night before the actual event several years ago as the pandemic shut down everything. But this year we are back – in person and better than ever!  Be sure to join us on Thursday, May 25 to celebrate Third Place Commons and all we do!  Yay!
Third Place Commons, your community gathering space, hosts hundreds of free community events each year as well as the Lake Forest Park Farmers Market. And it's only possible with help from folks like you!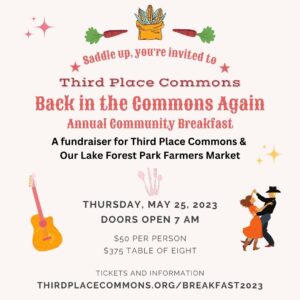 Get your tickets here for the "Back in the Commons Again" Annual Community Breakfast on Thursday, 
May 25th at 7 AM. Read more here.
If you're interested in volunteering with Third Place Commons and the LFP Farmers Market, or even in the possibility of board service, contact Executive Director Amy Whittenburg at [email protected].
See you at the Commons!