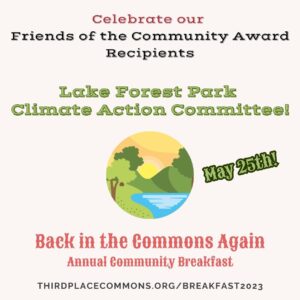 Third Place Commons invites you to the annual community breakfast for a fun-filled celebration of our shared community that raises vital funds for Third Place Commons and its flagship program, the Lake Forest Park Farmers Market.
This year's event, which takes place on Thursday, May 25th, celebrates the joy of being Back in the Commons Again for the first in-person breakfast since 2019.
One of the highlights of this popular event is the presentation of the Friends of the Community Award, which will be given this year to the Lake Forest Park Climate Action Committee.
This group of dedicated community volunteers has been working tirelessly the last few years to shift dialogue, policy, and action toward a more sustainable future for us all. Join the festivities on May 25th at 7 AM to learn more and honor this impressive bunch of movers and shakers.
Past recipients of the award have included the Rotary Club of Lake Forest Park, the Friends of the Lake Forest Park Library, Shorecrest High School arts leaders, Shoreline Area News editor Diane Hettrick, and community activist and Third Place Commons founder Anne Stadler.
In addition to the award presentation, the event will feature a fast, fun live auction and a delicious breakfast courtesy of Honey Bear Bakery.
Don't miss this joyful reunion with a vibrant community of friends, neighbors, and local leaders. Visit the event page to learn more or get your tickets now for the big event!
Third Place Commons – a vibrant and welcoming community gathering spot for neighbors from throughout North King County – is a 501(c)3 nonprofit that creates real community in real space by hosting hundreds of free events each year and presenting the LFP Farmers Market from May to October.