Yes, there will be road construction, and Bothell Way will be closed.  But the Farmers Market goes on, and so does  our fabulous annual Crafts Day!  Our talented crafters and artists will pitch their tents in front of Lake Forest Park City Hall, adjacent to the market.
We will have jewelry and leather, greeting cards and pet place mats.  And in the spirit of the day, some enterprising and generous crafters will offer specials.  Be sure to stop by the information table to pick up a coupon from Paula Rose for "construction deals" at her table.
And nothing gets in the way of the alpacas!  Farmer and artist Pam Wilmot will join us with her fleecy friends. There will be lots of carrots, so everyone will have a chance for a special moment with these engaging animals.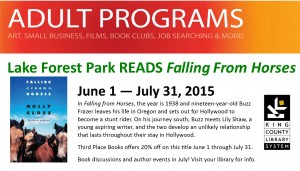 Stop by the community tent and find out about the Summer Reads program.  This year, readers in Lake Forest Park and Shoreline are enjoying Falling from Horses by Molly Gloss.
Our other day sponsor is Mud Bay.  Look for their canopy, and walk away with treats for your animal companions and lots of great information about keeping them healthy and happy.

We look forward to seeing you on Sunday!