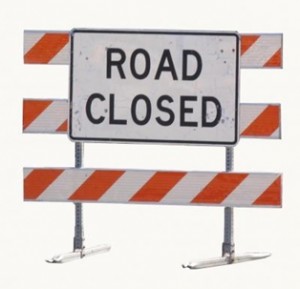 Time to plan ahead! Bothell Way, or SR522, will be closed beginning 7pm on Friday, July 17 until 6am on Monday, July 20. The Town Center will be accessible via Ballinger Way, and the farmers market WILL be open on Sunday the 19th.

Following is a release from the City of Lake Forest Park
LAKE FOREST PARK – Weekend drivers in the North Lake Washington area should start planning now for a closure of State Route 522/Bothell Way Northeast near the intersection with Ballinger Way Northeast Friday night, July 17 to Monday morning, July 20.
Contractor crews working on the City of Lake Forest Park's Lyon Creek Flood Mitigation Project will work around the clock to replace an existing culvert with a new, wider culvert that will help reduce flooding and improve fish passage.
"We know summer is a busy time around Lake Washington and it's never convenient to close a major road like SR 522," said Lake Forest Park Environmental Programs Manager Aaron Halverson. "But we have to get the work done now before spawning fish return in the fall." Completing this work all in one weekend will reduce the overall duration of construction in the area.
Closure details
• Both directions of SR 522/Bothell Way Northeast will close between Ballinger Way Northeast and Brookside Boulevard Northeast from 7 p.m. Friday, July 17 to 6 a.m. Monday, July 20.
• Drivers should plan for congestion and adjust their travel plans. While there will be a posted detour around the closure drivers are encouraged to find alternate routes.
• Transit users should plan for delays on SR 522/Bothell Way Northeast bus routes. Rider alerts will be posted at bus stops and reroute information will be posted online soon. http://metro.kingcounty.gov/alerts/
• Shoppers will be able to access the Town Center and the Sunday Lake Forest Park Farmers Market via shopping center entrances at Ballinger Way Northeast and Brookside Boulevard Northeast.
• Work is weather-dependent and may be rescheduled in the event of heavy rain.
The culvert replacement work is part of Lake Forest Park's Lyon Creek Flood Mitigation Project, which will reduce flooding risk, enhance stream habitat, and replace four culverts that currently block fish passage, including this one that crosses underneath SR 522/Bothell Way Northeast. The $6.86 million project is funded by the Federal Emergency Management Agency, the King County Flood Control District, the Washington State Department of Transportation, and the city of Lake Forest Park. It was designed by Davido Consulting Group, Inc. and is being built by KLB Construction.
Questions or Concerns? Please Contact:
Neil Jensen, PE
City Engineer
(206) 368-5440 [email protected]forest-park.wa.us
Aaron Halverson, MS
Environmental Programs Manager
(206) 957-2836 [email protected]
Follow the City for:
Traffic/project news, updates and details throughout the project on Facebook, Twitter and City Newsflash.