Market Street Dixieland Jass Band – Friday, May 16th @ 7:30
Sophisticated Swing Big Band – Saturday, May 17th @ 7:30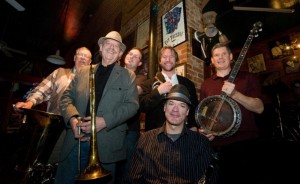 The Market Street Dixieland Jass Band represents New Orleans style jazz, Ragtime, Stomps and Blues at its best. This aggregation of fine players features music from the 1900's through the 1930's, played in the irresistible dixieland style. From Buddy Bolden and Scott Joplin, Jelly Roll Morton and Joe "King" Oliver, Bix Biederbecke and Louis Armstrong, 1920's torch songs and the 1940s trad revival, these musicians bring to life the toe-tappin, vibrant and exciting sounds of crescent city jazz.
And come back out to the Commons to dine and dance Saturday evening,  to the traditional swing  of the Sophisticated Swing Big Band, featuring music from the 40's and 50's as well as contemporary tunes from the 60's to present.
Live music every Friday and Saturday night.
Thanks to Madison Marquette and our community music sponsors.
If you or your business are interested in sponsoring an evening of music in the Commons, please contact Constance Perenyi at [email protected]