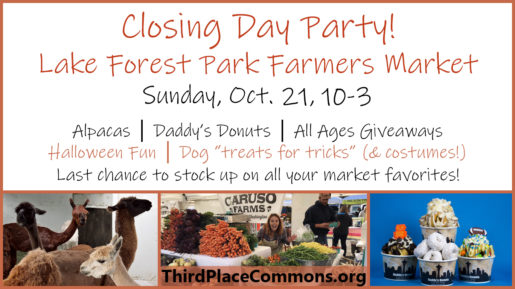 The Lake Forest Park Farmers Market is ending its regular season with a bang and celebrating the market with a Closing Day Party, this Sunday, October 21st from 10AM to 3PM.
So what makes a great Closing Day Party? Alpacas? Donuts? Halloween dog "treats-for-tricks" and costumes? Giveaways for all ages? Seasonal fruits & vegetables, farm-fresh meat & eggs, and locally produced specialty items? We'll have it all this Sunday!
With Halloween, just around the corner, the market will definitely be in the spooky spirit. Costumes are encouraged for everyone – but especially the kiddos and precious pups in the family.
Bring the little ones in costume by the info booth to claim their Halloween tchotchke of choice, and bring your doggies in costume by the booth to claim a special treat! No dog costume? No worries! Your canine companions can get "treats-for-tricks" as well! (And yes, "Sit" counts as a trick.)
There will also be washable, reusable produce bags on offer so that grown-ups can claim some goodies, too. Stop by the Third Place Commons info booth to get your fun freebies (one per person) while supplies last!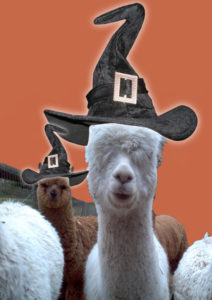 The whole family will also love visiting with the beloved Heart of Dreams alpacas who will make a special visit to the market just for the closing day festivities. Stop by to say hello to these cuties, feed them a carrot or two, and learn more about these sweet beasties.
Also returning to the market by popular demand, one-day only guest vendors, Daddy's Donuts! These fresh mini-donuts, which were rated by BuzzFeed as the best donuts in Washington State, were a big hit when Daddy's Donuts were guest vendors at the market opening day. So you won't want to miss them this weekend.
Speaking of missing things, you know you'll miss your favorite market vendors and all that amazing farm-fresh and locally made market goodness when the season ends. So don't miss your last chance of the regular season to load up on the farm-fresh autumn fruits and vegetables, meat, and eggs that you love.
And be sure to stock up on all your favorite locally produced goodies before the end of the season including jams, pasta, candies, sauces, coffee, wine, hard cider, baked treats, and more.
Plus, mark your calendar for two bonus indoor farmers markets – paired with annual holiday crafts fairs – coming on November 18th and December 16th. And watch for updates on a possible pop-up outdoor market on November 4th (weather permitting). Save the dates now and stay tuned for more details.
The LFP Farmers Market is presented by Third Place Commons, a community-supported 501(c)3 nonprofit organization dedicated to fostering real community in real space. The market takes place in the parking lot of LFP Town Center adjacent to City Hall at the intersection of Bothell Way NE and Ballinger Way NE.
See you at the market!