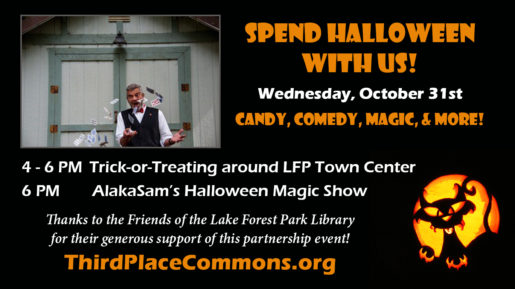 The spooky countdown is on to one of the biggest events of the year at Third Place Commons, our annual Halloween Celebration!
Weeks of special Halloween themed festivities wrap up in a grand finale this Wednesday, October 31st – Halloween night. The fun begins with trick-or-treating for costumed kiddos across Lake Forest Park Town Center from 4 to 6 PM.
There will also be some family-friendly activities in the Commons to keep the little ones entertained between the candy collection and the big show at 6 PM.
Following trick-or-treating at 6 PM on the Third Place Commons stage, it's time for the big Halloween Magic Show with magician AlakaSam! Perfect for kids of all ages, AlakaSam's magic is sure to keep even the littlest witches and goblins entertained to the end.
Halloween at the Commons featuring AlakaSam is sponsored in part by the good folks at the Friends of the Lake Forest Park Library, so thanks to them for making this fantastic, family event possible.
Expected to participate in the trick-or-treating are the following mall merchants:
A Better Day Salon
Ace Town Center Hardware
Albertsons
The Avid Angler
Burney Brothers BBQ
The Chocolate Man
Everest Kitchen
Expedia CruiseShipCenter
Forest Park Cleaners
The Gallery at Town Center
Great Harvest Bakery
Honey Bear Bakery
Kitto
Lake Forest Bar and Grill
Lake Forest Park Library
Mad Cow Yarn
Mud Bay
Northwest Ballet Center
Papa Murphy's
Planet Fitness
Rite Aid
Sally's Beauty Supply
Third Place Books
Third Place Commons
Two Trading Tigers
Verizon
Wild Birds Unlimited
Windermere
And remember that events at Third Place Commons are always free and open to everyone, so don't miss the fun. See you at the Commons!